By Josh Ault
As a seventh grade social studies teacher, I always think it is important to make history come alive for my students. I want them to know that the events I teach them happened, and it impacts their lives still today. Every September 11, I do a special lesson on the terror attacks on that day.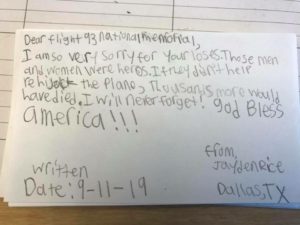 I lived in New Jersey for two years and have been able to visit the sites in New York City many times. I recently made a trip in 2016 to the Flight 93 National Memorial in Shanksville, Pa. At the memorial there is a wall were people who are visiting can leave their thoughts and comments about the passengers who were able to stop one of the flights from making its intended destination. I thought it would make this event more real for my students if they were able to leave something at this site. All of my students were born after 9/11. I passed out note cards and allowed them, if they wanted to, to write a message to the passengers and their families of Flight 93. I mailed them off to Shanksville, Pa., and today I got these photos back. The park ranger sent me this e-mail back:
Mr. Ault,
Thank you for your letter, and for your continued support and interest in Flight 93 National Memorial. It's always good to hear that the events of Sept. 11, 2001 are being actively discussed in the classroom with new generations of students and citizens. We received your students' messages, and posted them on our wall here at the Memorial. Judging by their comments, the lesson you presented on September 11 had a very meaningful impact. I've attached a few images of their cards for your review. 
Best Regards,
Rich Condon
Park Ranger
Flight 93 National Memorial
I know this activity will help my students remember what happened on that day and hope it remains something they never forget.