By Gigi Ekstrom
When the 2020 Texas Private School Music Educators Association (TPSMEA) All-State Choir took the stage at the Charles W. Eisemann Center for Performing Arts on January 25, two of the voices showcased belonged to Lakehill juniors Sophia Ganson and Asher Chamoy.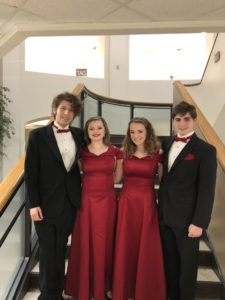 Being selected for the TPSMEA All-State Choir is the highest honor a Texas private school vocal music student can receive. Four Lakehill students previously advanced in the TPSMEA All-State Choir audition process and were selected for the All-Region Choir. They are Ganson, Chamoy, Elizabeth Blanchard and Keegan Clendenin (pictured). More than 800 students from more than 90 of the top private schools throughout the state of Texas entered the competition by submitting a recording, which was comprised of two cuts from the All-State choral literature.
These talented Lakehill singers participated in the All-Region clinic and concert on January 11, at Trinity Christian Academy in Addison. The choir was rehearsed and conducted by Dr. Allen Hightower, who is the director of choral studies at The University of North Texas.
"Participating in All-Region and All-State Choir performances is an incredibly valuable experience for our students," said Performing Arts Chair Tracy Herron. 
"It gives them the opportunity to rehearse and perform with others who have similar talents and abilities. They work with nationally acclaimed directors, culminating in a performance of some of the most difficult choral literature."