By Robyn Schaub
The Swiss Avenue Historic District (SAHD) proudly announces its 46th annual Mother's Day Home Tour, which will take place Mother's Day weekend, May 11-12. 
This weekend-long tribute to Dallas' historic past will feature five of the city's most fabulous early 20th Century homes and, on Saturday only, an historic Gothic sanctuary built by noted architect C.D. Hill.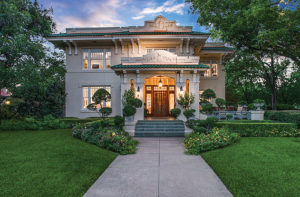 The homes on tour this year represent a diverse variety of the early 20th Century's most popular architectural styles, including a romantic Spanish Revival, an Italianate Mediterranean Villa, a pristine Mission Revival, a Prairie Foursquare with unique Georgian influences and a Progressive Style Prairie Foursquare.
In addition to touring homes, guests may enjoy an open-air art fair, a vintage auto display, a children's activity area with a kid-sized railroad, live entertainment on the Avenue, a speakers' series, free horse-drawn carriage rides, complimentary air-conditioned mini-coaches, freshly prepared food, ice-cold beverages, and much more. On Sunday, Mother's Day brunch will be served in Savage Park with a live jazz ensemble. Advance reservations are suggested.
Tickets to the tour are $30 in advance and $35 during the event. Children 12 and under are admitted free. To purchase tickets, visitsahd.org or any of these local area retailers: Talulah & HESS at Skillman-Live Oak Shopping Center; Tom Thumb Stores at Mockingbird & Abrams, Gaston Avenue near Grand, Villanova Drive in Preston Center, Snyder Plaza, Oak Lawn Avenue, East Lovers Lane at Matilda and the new Uptown location. 
Advance ticket sales end at 6 p.m. on Friday, May 10. During the tour, tickets can be purchased at any of the homes on tour and at Savage Park, located at the midpoint on Swiss Avenue between Bryan and Parkmont. 
Swiss Avenue stands as the finest example of an early 20th century neighborhood in the entire Southwest. Its eclectic mix of homes represent virtually every popular residential design style of the day, including Mediterranean, Spanish, Spanish Revival, Georgian, Mission, Prairie, Craftsman, Neoclassical, Italian Renaissance, Tudor and Colonial Revival. The Home Tour is your opportunity to step inside these treasured homes to discover the charm and detail that's been lovingly preserved throughout the years. 
For more information on the 2019 home tour and the Swiss Avenue Historic District, visitsahd.org.