By Sara Newberry
I remember when the farthest southeast corner of Hillside Village was home to a Blockbuster Video. Now it's home to Lakewood's newest neighborhood favorite, Hillside Tavern. Open by the team behind local favorites Rapscallion, Boulevardier and Veritas Wine Room, it seems destined to succeed.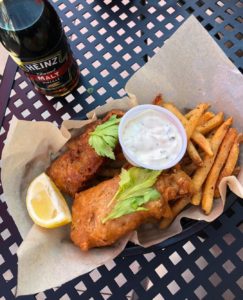 Indeed, both times I visited, the dining room and patio were filled nearly to capacity with a range of groups from obvious first dates to families and everyone in between. With a homey but cool atmosphere and everything on the menu going for less than $20, it's sure to hit a lot of the right notes with a lot of people.
A "Long Walk" chicken sandwich (a nod to the Nashville-style chicken served at Rapscallion) is a popular choice and is mentioned in every article I saw; I was happy to see the lowly fried chicken thigh get its due instead of serving up another boneless skinless chicken breast. 
The thigh is the richest piece in the bucket, so they're not trying to fool anyone into thinking they're being "good" by getting the chicken sandwich. It's crunchy and spicy and rich, as it should be. Mine was a little dry — not the chicken itself, that was perfect, but the sandwich as a whole — and could have used a little more of the ranch dressing on the bun. (Unrelated: I involuntarily roll my eyes at the word "shredduce.") 
A 4-Cheese Sourdough Patty Melt is greasy and messy and salty, everything a good patty melt should be. I respect a restaurant that admits that American cheese is the best patty melt cheese, and Hillside ups the ante by adding cheddar, provolone and Jack to the mix. 
It practically cries out for a side of salty fries and a puddle of ketchup to dip it in. A Smoked "Bologna" sandwich (their quotes) also borders on the ridiculous, in the best way. Pecan-wood-smoked mortadella is stacked half an inch thick and topped with American and provolone cheese, mayonnaise (of course) and dill potato chips. This addition is genius for those of us who might miss the crispy edges in a fried bologna sandwich. 
Fish and Chips were golden and crisp — seriously, give whoever is running the fryer a raise, because he or she is gifted — and served with jalapeno tartar sauce and malt vinegar. The fish inside the gorgeous batter was a little bland, but that's how it should be, in my opinion. It's merely a vehicle for the crisp shell and the sauces. 
That fryer is also turning out perfect fries (also perfectly seasoned) and onion rings that are my dream: thick slices of onion, light batter, not at all greasy. It's also responsible for the fried Saltines that arrive alongside the 3-Cheese Pimento Cheese, which I will be ordering every time I visit Hillside Tavern. It's intense and magical. (A guest at the next table commented that he "doesn't like pimento cheese" when he saw our plate arrive. Sir, you have not had this pimento cheese.)
If you must have a salad, there are a few available, most notably the Hillside Wedge, which is less a wedge and more an actual full half head of iceberg lettuce. I laughed out loud at the size of it when I saw it, and if I'm honest, I don't remember much else about it, because I spent the entire time wondering just how much cold storage they have to have for all of those heads of lettuce. 
Service can be a little brusque: There's no question that they're running a business, here, people, but in general was not unfriendly. (The bartenders might want to keep in mind that the dining room can be a little loud, so when guests try to confirm that they heard correctly, a snarky response of "That's what I said!" is unnecessary.)
The formula that created Hillside Tavern has proved successful in the team's other ventures, and I see no reason why this time should be any different. 
Hillside Tavern
6465 East Mockingbird Lane
Monday-Thursday 
3 p.m.-12 a.m.; Friday-Saturday 3 p.m.-1 a.m.
Sunday 3 p.m.-11 p.m.
214-888-0152