By Liz Oliphant
Three teachers in the Dallas Independent School District (Dallas ISD) were honored as Teacher of the Year for elementary, middle and high schools, by the Rotary Club of Dallas at ceremonies on August 10.  Winning awards in 2022 are Natalie Hebert, Jill Emery and David Newhouse (pictured). Each teacher received a check for $2,500 and a commemorative plaque. Dr.  Hubert Zajicek, president-elect of the organization, chaired the event.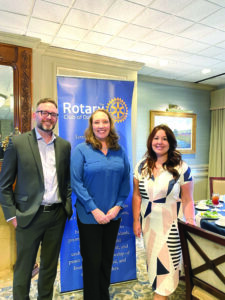 "For the past 30 years, the Rotary Club of Dallas has recognized outstanding teachers who practice the Rotary motto of Service Above Self in working with their students," explained President Rachael Jones. 
"It is heartwarming and reassuring to see the care and concern exhibited by these teachers as they strive to support and encourage their students in their academic achievements as well as demonstrating their concern for others."
Texas Education Agency Commissioner Mike Morath sent a pre-recorded video, recognizing the Club for honoring teachers. Former Dallas ISD Superintendent and Under Secretary of Education Linus Wright also spoke to the group and congratulated the teachers.
Art teacher at Jill Stone Elementary at Vickery Meadows, Natalie Hebert uses art projects to teach problem-solving skills to pre-K through 5th grade students. "There is no wrong way to produce art as each student's vision is different," she explains. 
"This gives them confidence in other academic areas." As a volunteer, she raised funds for and coordinated art projects for the hundreds of immigrant, teenage boys while they were housed for several months at the Kay Bailey Hutchinson Convention Center in 2021. This year, she created an art show for her students — with an invitation in eight languages — to bring parents into the school to see their students' work, many visiting for the first time. She also created art programs that drew students into the neighborhood public library that resulted in many library cards being issued to immigrant families.
Jill Emery, a Texas Education Agency Exemplary Honors Algebra Teacher at G.B. Dealey Montessori and International Academy, created series of educational videos for KERA and Dallas ISD that helped students maintain and improve their math skills during the COVID shut down. These videos are now available to area students 24/7 to help them master specific skills. She created Algebra Olympics, a competitive program to help students review skills and prepare for the STARR test. 
While serving as faculty sponsor for the National Junior Honor Society, she has helped recognize the volunteer service of faculty, staff and students with the Presidential Volunteer Service Awards, which she has also received. She further developed a mentoring program where 8th grade students become "Math Buddies" to help struggling 6th graders improve their math skills.
Believing that each student needs an adult advocate to cheer them on and to guide them, David Newhouse, a 9th grade P-Tech Social Studies teacher and chess coach at Thomas Jefferson High School, plays that role for hundreds of students. The students reciprocate that concern, having ranked him among the top three teachers in the school for each of the last three years. Newhouse uses various technology apps to monitor students' daily progress so they don't fall behind, and creates competitive videogames to teach historical facts. He is committed to twice yearly home visits and uses translator apps to keep parents aware of students' progress. 
Through a study conducted with parental consent, he determined that some students were coping with adverse childhood experiences, far above national averages, that affected their learning. This information also allowed him and other teachers adapt their teaching style to better help those students.