By Katrina Craycroft
In the coming weeks, Metroplex high school students will select their courses for the 2022-2023 academic year. Electives allow each student to tailor his or her high school experience, but graduation requires credit in a few key subjects. Language arts, math, social studies and science may reflexively come to mind, but let us not forget the favorite of some and bane of others — physical education. (P.E.)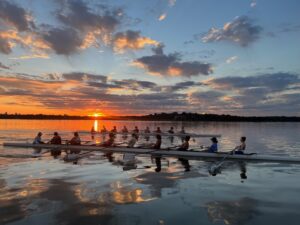 For many, P.E. credit is a given, earned on the fields or courts of a school's athletics. For others, the path is less obvious. Sure, there's the default: a year of calisthenics, dodgeball, square dancing, yoga or whatever else has most recently captured the imagination of a coach, but teens and parents should know that alternatives exist, including rowing with Dallas United Crew (DUC).
DUC's high school program qualifies under the Texas Education Agency's (TEA) Category I or Olympic standards. Most athletes come to DUC without any rowing experience, and DUC expertly crafts training for all fitness levels. "Rowing requires a completely different skill set than most UIL sports," offers DUC Program Director Steve Perry. "Some of our most accomplished rowers thought they were bad at sports before they found rowing. Now they compete for colleges nationwide."
Category I off-campus P.E. (OCPE) offers another popular bonus — a shorter school day. "Because kids are consistently training at the boathouse, they are excused from one period, usually at the end of the day," says Perry. 
Organizations must be approved by school districts to offer OCPE, and DUC has actively sought certification. Dallas United Crew is an Approved Agency (certified) at Dallas, Richardson, Highland Park, Plano, Carrollton-Farmers Branch, Frisco and Carroll Independent School Districts. Many private schools also work with DUC to offer P.E. credit for rowing. including Bishop Lynch High School, Shelton School, Parish Episcopal and Trinity Christian Academy. "DUC rowers come from 27 different high schools. Once they understand what we do, most schools work with us because they see the enormous impact we can have for their students," Perry added. Full details of OCPE programs are available on each school's or district's website.
With 22 regional titles, DUC has successfully shown teens that they can ditch the court and field, earn P.E. credit at the boathouse and find belonging in athletics. For those interested in learning more about rowing in high school, DUC will host an information meeting on February 15 at 7:30 p.m. For details, visit DallasUnitedCrew.org.