By Alejandra Ortiz
White Rock Rowing, the Dallas team that qualified three boats in the internationally renowned Head of the Charles last month, raced on the Brazos River at the Waco Rowing Regatta against the top junior programs in Texas and Oklahoma.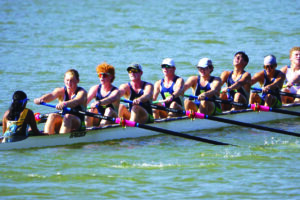 On Nov. 6, Waco Rowing Regatta hosted masters, collegiate and junior teams in Waco, Texas, where the White Rock Rowing crew competed in 16 events. "Our men's youth and women's youth did a great job representing Dallas at the Waco Rowing Regatta. As our last away race of the season, it was an opportunity for our junior athletes to get on the water and showcase what a robust program our coaches have built with the youth we have. The future of White Rock Rowing is bright with this crew, and we can't wait to see what amazing things they'll accomplish at nationals," said Sue Ellen Chambers, president and board chair of White Rock Boathouse, Inc. — the nonprofit that operates the rowing club. 
As an homage to the team's work this past year and highly anticipated racing season ahead, White Rock Rowing is hosting an open house on Nov. 19 at White Rock Boathouse. The White Rock Lake community and anyone interested in learning more about the sport is welcome to attend. Learn more by visiting whiterockrowing.org.