By Lisa Miller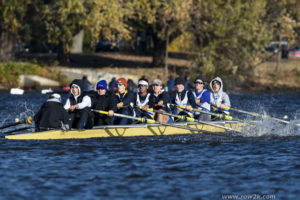 Dallas United Crew (DUC) rowing team competed in its last fall regattas of the 2018 season at the Frostbite Regatta on November 10, and Bill Braxton Regatta on November 11, both in New Jersey along the shores of the Cooper River. With five crews and 45 athletes, this was DUC's first appearance to race against these northeast crews. Chilly temperatures and windy conditions did not dissuade these athletes.
Across the weekend, Dallas United earned medals in an impressive eight events, bringing home 72 medals overall. "The race conditions lived up to the 'Frostbite' name, with cold temperatures in the 30s and 40s along with choppy, white-capped water," said Program Director Steve Perry. "Our athletes pushed through and focused on their race plans." DUC won gold in an impressive five events, earned silver in two events and bronze in one event. Perry continued, "I was particularly proud of our coxswains who steer the boats. In these conditions, we couldn't have had these results without them navigating the course conditions."
Dallas United Crew welcomes Middle and High School students to join the team with the new spring season beginning in January. Rowing opens college doors, offering more scholarships per athlete than all other sports. No prior experience is needed. Financial assistance available to those that qualify.
Frostbite Regatta
Gold Medals
Varsity Boys 8+
Varsity Girls 8+
2nd Varsity Boys 8+
2nd Varsity Girls 8+
Bill Braxton Regatta – Gold
2nd Varsity Boys 8+
Silver
Varsity Boys 8+
3rd Varsity Boys 8+
Bronze
Varsity Girls 8+