By Juliette Coulter
Texas Women's Foundation has announced the recipients of its 2021 Maura Women Helping Women and Young Leader Awards, which recognize leaders who have positively impacted the lives of women and girls. The seven recipients will be honored at the Leadership Forum & Awards Celebration, presented by AT&T, on April 29. The virtual event begins at 10 a.m., and tickets are $42 in honor of the 42nd anniversary of the Maura Awards. Co-chairs are Jana Etheridge, managing VP, chief of staff and customer office financial services at Capital One, and Hattie Hill, president and CEO of T.D. Jakes Foundation.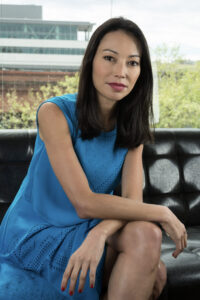 The event's keynote speaker is Adriana Gascoigne, author of "Tech Boss Lady" and founder and CEO of Girls in Tech, a San Francisco-based nonprofit with 43 chapters in 32 countries, which is devoted to empowering, educating and engaging women in the tech industry. 
In 2018, she was named one of the 20 most influential Latinos in technology by CNET and also received the Pioneer Leadership Award at the Silicon Valley Latino Leadership Summit. Her keynote is supported in part by the Catherine M. Coughlin Endowment for Women's Leadership at Texas Women's Foundation. 
At 10:50 a.m., event attendees will select and join one of the breakout Leadership Forums, featuring a moderated discussion with the award recipients about key issues and their own pathways to leadership. There will be opportunities for event attendees to interact and participate. The Forums will be videotaped and available within 24 hours. In addition to the video recordings, Texas Women's Foundation will also launch Gender Matters, a podcast series sponsored by Kimberly-Clark that will feature in-depth interviews with each award recipient. 
"We are excited to celebrate the remarkable achievements and inspiring stories of our Maura and Young Leader award recipients, who truly are agents of powerful and positive change for women and girls in Texas and beyond," said Roslyn Dawson Thompson, Texas Women's Foundation president and chief executive officer. 
"We are also eager to hear from Adriana Gascoigne, who has made it her mission to create a global network of support for women in technology and who totally lives up to her book's title, 'Tech Boss Lady.'"