Costumes generate interest in art form
By Suzanne Calvin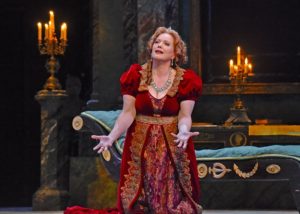 The Dallas Opera and NorthPark Center are proud to present rarely exhibited historic costumes from the private collection of The Dallas Opera Wardrobe Department.
The exhibit, entitled "The Fabric Of Opera," will be on view from Sept. 12 to Nov. 4 at NorthPark Center, 8687 N. Central Expressway in  Dallas near the CH Carolina Herrera boutique on Level One between Neiman Marcus and Nordstrom. The exhibition presents 22 spectacular costumes created for The Dallas Opera by some of the finest talents in the world and showcases a wide variety of historical periods and designs worn by some of the greatest opera artists of the 20th and 21st century.
"Nancy Nasher, David Haemisegger and the NorthPark Center team have been working closely with TDO to develop The Fabric of Opera in order to generate interest in the art form among the millions of people who visit NorthPark each year," said Ian Derrer, The Kern Wildenthal general director and CEO. "It is our privilege to be in a position to contribute to the wealth of great art in the public marketplace, as shown by NorthPark's exemplary leadership," Derrer adds. The majority of these magnificent, hand-detailed costume designs are the creations of the late Peter J. Hall, who served as TDO's resident costume designer for more than four decades. This brilliant designer was engaged by many of the most important opera houses in the world and dressed many stars in the entertainment field as well, with a legendary client list that included David Bowie, Elizabeth Taylor and Mick Jagger.
"The Fabric of Opera" will consist of costumes created for characters from all walks of life; from enslaved captives to matadors to royalty. Spanning historical periods from Ancient Egypt to the Victorian Era, nearly two dozen magnificent costumes have been curated by Dallas Opera prop, set, and costume designer Tommy Bourgeois, who worked alongside Peter J. Hall for decades. Other renowned costume designers represented in the NorthPark Center exhibit include Constance Hoffman and Allen Charles Klein.
"Today's Dallas Opera continues to build on a lavish design tradition begun in the 1950s by company co-founder Larry Kelly, director/designer Franco Zeffirelli, resident costume designer Peter J. Hall, and other extraordinary artists whose magnificent creations — over the course of six decades — became an integral part of our company fabric," explains Ian Derrer. 
"Their dreams and ideas, brought to life in this special exhibit, continue to inspire new generations of artists, designers, and opera audiences, and we are deeply grateful to Nancy Nasher, David Haemisegger and NorthPark for their enthusiasm and steadfast support."
NorthPark Center, Dallas' premier shopping destination, has long been associated with high style and luxury, which are hallmarks of opera's most exciting designs. As NorthPark is the presenting sponsor until 2036 of TDO's First Sight Fashion Show and Luncheon, it is a fitting location to host this exhibition.
"One of the first places I visited when I came to Dallas," reports Emmanuel Villaume, the Mrs. Eugene McDermott music d irector, "was the incredible Nasher Sculpture Center. That world-class collection served as my introduction to the impact of the Nasher Family on the arts in North Texas; however, it took a trip to NorthPark Center for me to realize that what I was seeing was merely 'the tip of the iceberg.'
"I've been the lucky recipient of Nancy's warmth and enthusiasm for the past five years, and I embrace every opportunity for collaboration between our two companies — because they are always meaningful and beautiful experiences," adds Maestro Villaume.