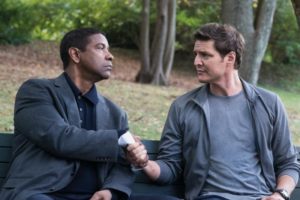 By Chic DiCiccio
The prologue of "The Equalizer 2" is set onboard a passenger train in Turkey where Denzel Washington's Robert McCall is disguised as a Muslim bookworm. He's sporting a kufi and wearing what is quite possibly the fakest beard in American movie history. This opening seems like it wants to set McCall up as an international man of mystery, a vigilante James Bond of sorts. But why did every moment of it seem more like Frank Drebin smacking around world leaders at the beginning of "The Naked Gun?"
It's highly doubtful this is what director Antoine Fuqua, screenwriter Richard Wenk, and acting titan Washington had in mind. Denzel's first go around as McCall worked (or, at least, became a guilty pleasure) because the story was localized, and his vigilante justice was doled out to those that normally get away with it. Oddly enough, this horribly paced, slightly tone-deaf sequel fails when things hit too close to home for McCall.
After he loses the beard, McCall returns to Boston, where he spends his time as a Lyft driver. He hangs out with a Holocaust survivor (an adorable Orson Bean) and visits highfalutin' locally owned book stores (he even shops local, what a guy!). But, every now and then, he has to break every bone in the arms of penthouse-dwelling, white-collar cokeheads that would normally get away with sexual assault.
Is there something deeply satisfying in watching McCall dispatch scumbags with ease? Absolutely. It's a testament to Denzel's magnetism that makes horrific, borderline sociopathic acts of violence a good time. But is it fun seeing him become wrapped up in some horribly constructed CIA imbroglio that starts up in Brussels, Belgium? Um, not so much.
While McCall does his best to keep a young kid in his apartment complex, Miles (Ashton Sanders), from succumbing to the pressures of street gang violence, his old CIA pals are in Belgium doing spy stuff. Susan (Melissa Leo), McCall's BFF, is leading a murder investigation with his old CIA kill squad partner, Dave (Pedro Pascal), in tow.
It's easy to see that somebody here is doomed and since Wenk's screenplay is devoid of intrigue, it's equally simple to figure out who is behind it all. The next thing you know, McCall is on a laptop, tracking mobile phone calls, analyzing security camera footage, etc. Please remember this is a guy who borrowed a hammer from a Home Depot in the previous film to dish out sweet, sweet random justice.
Denzel is fairly critic proof and he seems fully committed, even when shouting insane things like "You don't know what death is" to a character whose older brother was, in fact, murdered. McCall is essentially a fictional, hyper-stylized version of the real-life Denzel and he manages to take that hackneyed dialogue and still make it sound righteous. The action finale lets him down and turns him into nothing more than a blunt object that could have been played by any aging action star.
Columbia Pictures should have pushed for the movie to simply be called "The Equalizer: This Time It's Personal." It's strange that a plot designed for an audience to learn more about a character isn't as interesting as the prior film that left McCall as a more mysterious figure. It's almost as if this screenplay was initially about the whole Belgium angle and McCall's character was inserted after the fact.
But Denzel, errr, McCall does spend some time reading Proust's "In Search of Lost Time," which has to be a cinematic first. Maybe he'll break out "Remembrance of Things Past" for "The Threequalizer."