By Lindsey Lyons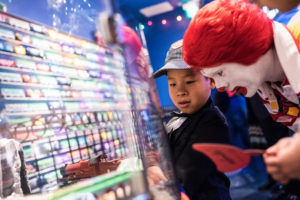 Celebrating more than 30 years benefiting the Ronald McDonald House (RHMD), 20 years at NorthPark Center and 10 years with presenting sponsor, Bank of Texas, The Trains at NorthPark is launching its 2018 season with its limited-edition railcars now for sale. All railcars purchased will be on display during the Trains exhibit from Nov. 17, 2018 – January 6, 2019. The goal is to surpass the success of 2017, one of the best years to date, which helped provide more than 4,000-night stays for families whose children are receiving essential medical care.  
A beloved family tradition, The Trains at NorthPark is the largest miniature train exhibit in Texas with more than 750 railcars honoring the corporations, organizations, families and individuals who make the seasonal attraction possible. Since its launch in 1987, The Trains at NorthPark has helped raise more than $13 million for RMHD and welcomes more than 70,000 visitors to Dallas' favorite shopping destination each year. Purchasing railcars, which need to be reserved by Oct. 15 to be ready for opening, is one way to enhance the charm of visiting The Trains at NorthPark.
"The magic of The Trains at NorthPark is multiplied in the best way when you have a car you've helped put on the track. It's always a delight to see families search for and spot their railcar when they visit," said Jill Cumnock, chief executive officer of RMHD. 
Railcars range from $175 for a standard railcar, to $225 for a caboose, and $325 for an engine.  Two limited edition cars are available for 2018, including a Passenger Car in green or orange for $275, and a new Dining Car for $275.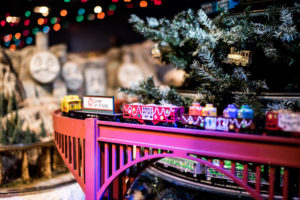 The Trains at NorthPark will arrive at 10 a.m. on Saturday, Nov. 17, on the 2nd level of NorthPark Mall between Nordstrom and Neiman Marcus. 
Families who want to catch a sneak peek of the exhibit before the doors open to the public can do so by purchasing a $100 Family Pass.  With 1,600-foot of tracks, it will once again feature cityscapes like Dallas, replete with the Margaret Hunt Hill Bridge and Fair Park; New York with Times Square and Grand Central Terminal; Washington, D.C. with The White House; and San Francisco's Golden Gate Bridge. Other highlights include New England's fall foliage, the Grand Canyon, Garden of the Gods, Mount Rushmore and Route 66.  NorthPark has just received the 2018 Project Collaboration Award by D Magazine recognizing the successful partnership between NorthPark Center and Ronald McDonald House Dallas.
Tickets for The Trains at NorthPark are $4 for children ages 2-12 and seniors over 65. Adults are $7, while children under 2 are admitted for free. 
Those interested in supporting The Trains at NorthPark through sponsorship, can do so by visiting thetrainsatnorthpark.com.