From Staff Reports
Two elderly East Dallas friends have the recipe for fun after retirement. It's murder. Actually, it's writing a series of murder mysteries under the name JoBeth Jones.
The two, Julie Offord Owen and Mary Kay Jackman, have been writing mysteries and children's books about half a dozen years. They accidentally found a publisher, White Bird Publications, on a trip to Austin for the Texas Book Festival.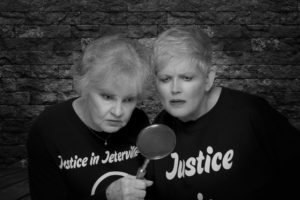 Owen and Jackman connected in senior adult workshops at Wilshire Baptist Church. They share a love for mysteries, writing and having fun. One writes using a computer. The other writes on the backs of napkins, on toilet paper or on whatever happens to be handy. They spend as much time laughing as they do writing, especially when reading their work to each other in person or over the phone. These ladies never experience writer's block. Instead, they pack the car and go on writing trips. They have meandered through two countries and eight states finding material for their books: "Justice in Jeterville," "Missing in Memphis," and "Death in Dallas."
The writers love their meanderings and find new characters, plot twists and stories wherever they go. Their books are listed on Amazon, in Barnes & Noble, and can be found in the trunks of their cars. Unlike most published writers, these two ladies do not have an agent.  
The geriatric authors consider themselves blessed abundantly because of the support of their publisher, their family, friends and church — and because some things that seem serendipitous are not; or, as some would say, "Just accept it; it's a God thing."