By Chic DiCiccio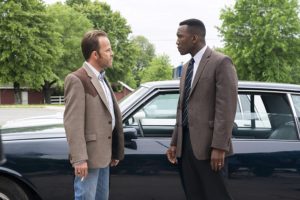 This is normally a column about movies, but something happened while the movie industry awarded Mahershala Ali his second Oscar. Ali starred in the season finale of the third season of "True Detective" and all but guaranteed that he'll be taking home some trophies in the near future, while also confirming that he is potentially the finest actor working in any medium today. 
While it pales in comparison to the first, the third season of "True Detective" displayed what this show truly is about: relationships. More specifically, the show focuses on how relationships change over time. So, if you go into "True Detective" hoping for an in-depth crime mystery, well, this show is going to leave you sorely disappointed. 
The crimes that consume this season involve the death of a child, Will Purcell, and the disappearance of his younger sister, Julie, in the Ozarks region of Arkansas in 1980. State Police Detectives Wayne Hays (Ali) and Roland West (Stephen Dorff) are assigned to the case and the show then spends all eight episodes jumping from 1980 to 1990 to 2015. 
The year 1980 introduces us to the good, if unhealthy, relationship between Wayne and Roland as they blur the lines of legal versus illegal police work. It also examines Roland's obsession with his job and Wayne's clear desire for more, which comes out in his burgeoning relationship with Amelia (Carmen Ejogo), a schoolteacher who also investigates the crimes as a journalist. 
What makes this season really go are the information gaps as the show moves from year to year. In 1990, Wayne and Amelia are married with children, but Wayne isn't a homicide detective and Amelia's book about the 1980 crimes has frayed their relationship. Roland is still a homicide detective and the re-emergence of Julie Purcell sucks Wayne back into a seedy world. 
In the year 2015, Wayne is a widower fighting off bouts of memory loss. His son, Henry (Ray Fisher), followed in his dad's footsteps as a detective and has looped him into filming a documentary about the 1980 cases. Wayne struggles through it, but it's obvious that he's only doing it in order to see if a dark secret is indeed still a secret. 
It's hard to believe that anyone other than Ali and Dorff could have pulled this off. If not for the fact that Ali is flat out amazing in every episode, everyone would be fawning over Dorff's career revitalizing performance. He's a revelation and should move towards character acting work in the future. Sadly, even Ejogo's fantastic work gets blown out by the overwhelming greatness of Ali. 
It's hard to believe that Wayne wasn't written by creator Nic Pizzolatto with Ali in mind. There can't be another actor alive that could have pulled off playing a man at several different ages, particularly as an elderly man with memory issues. The pain and confusion on his face is heartbreaking.
The season's finest moment occurs in the finale. The mystery is finally solved, and Ali conveys how time heals all with just a look on his face. It's simultaneously uplifting and sad, which is exactly how truly great storytelling can make you feel. 
If you gave up on this show after season two, get back in now. If you've never seen it, no problem. You can start with this season and know exactly what's happening. Whatever the case, give this season of "True Detective" a spin if only to see Mahershala Ali put on an acting masterclass.