By Judy Babb
Turtle Creek resident, film maker and actress Cheryl Allison hunkered down at the end of March 2020 as the pandemic lockdown started. Separated from friends and family and trying to lessen the gloom settling over many, she followed instructions to get outside. She chose to take daily walks by Turtle Creek. She didn't know what this decision would mean to her world and to that of her soon-to-be fast friend — a goose, and that it would be a beacon of hope to those who followed their story.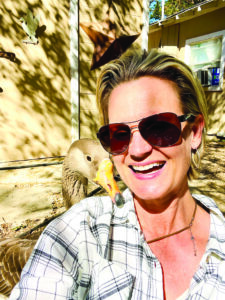 Allison realized HONK, as she named him, was alone. The two traveled a journey together that ended up with heavily followed Instagram, Facebook and YouTube sites. He became a much-needed symbol of hope, friendship and love during a time of struggle and loss. Their story resulted in a documentary, which leads off the Dallas Video Fest at the Angelika in Dallas, March 2. Tickets are $12 for adults and $5 for children. After the premiere here, the film will go to film festivals worldwide. This is their story.
Allison crossed the street and wandered toward the pond. Her peace was broken by an excited visitor, charging at her at full speed and at full voice. "The goose came running at me honking," she said. "I was startled. I was taken aback." Once she realized he wanted her company, she sat down on a park bench and he stayed with her until she left. Their friendship began.
When she started to go home, the Toulouse goose followed. After several false starts, including one where he ended up stopping cars in the middle of Turtle Creek, Allison realized she'd have to do something different.
She herded HONK to the creek and into the shallows where he began his ablutions. Allison snuck away. When HONK realized she was gone, he looked for her before going back to the pond and paddling away. 
She continued to visit and filming the goose. She started the Instagram page, HONK_thegoose, which quickly grew to nearly 80,000 followers. 
The Dodo made a film about their relationship. It went viral as well. Allison realized the loneliness and estrangement caused by the pandemic was the reason the story about the girl and the goose warmed hearts. HONK now has 34 million Facebook followers and 6 million YouTube followers who are awaiting the film's release.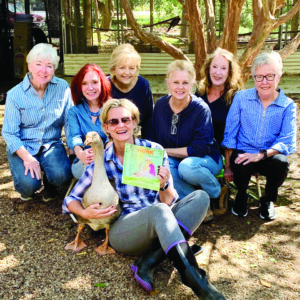 For eight weeks, Allison visited HONK. She emulated his call. He'd run to her. They walked and sat together, and she talked to him. "He became my therapist and best friend," she said.
On occasion, Allison found HONK endangered by human detritus. She found his leg wrapped in fishing line and later, a hook embedded in a wing. She removed both, wondering about his fate had it not been for her. Allison, with HONK close behind, made it her personal mission to pick up trash around the creek.
She called Judy McLane, a friend in New York, who told her HONK was a domestic bird, that someone had dumped him thinking he could take care of himself. He could not. 
HONK had resorted to begging, often eating bread, which is unhealthy for birds. Domestic geese don't know how to forage and can't fly to get away from predators. McLane referred her to Mary Beth Purdy, a wildlife rescuer in New York.
"It's Russian roulette every day he stays there," Purdy said. "He's lucky every day."
Allison began looking for a way to get him to a safer place. Another challenge arose. Neighbors said HONK had a mate, a white goose, probably sitting on a nest. Purdy told her she couldn't move HONK unless she could find the mate and nest and move them all.
Allison spent six weeks searching for the mate while the bond between Allison and HONK grew. She hunted through the underbrush along the creek. Finally, she found her remains. HONK was grieving.
It was time to rehome HONK. Allison found Rogers Wildlife Rehabilitation Center. The center rehabs and releases wild birds and provides a home for domestic ones. The best part for Allison was it was only 20 minutes from her home, so she could visit him often.
Kathy Rogers, who runs the center, said that HONK discovered another white goose at the center. He and Brenda became a pair. But whenever Allison came to visit, Rogers said HONK went crazy to get to Allison.
Allison realized her relationship with HONK gave her another mission — one of educating people about domestic geese and ducks.
Marty Van Kleeck, former manager of the Bath House Cultural Center, was able to provide money for the film and books through a grant from Friends of the Bath House Cultural Center. Van Kleeck also co-wrote the book "HONK" with Allison. Their goal was to create a children's book that was fun and taught safety about not dumping geese, not discarding trash in public places and what they should and shouldn't be fed. The book is paired with an activity book.
HONK lived at the center for almost two years. On Feb. 1, after visiting with Allison, he sat on his favorite pile of leaves and went to sleep. He never woke up. 
All who knew him or of him recognized his legacy as the goose who gave so much love to others. 
Allison agreed.
"Love outweighs grief. Love goes on," she said. "That was his last great lesson to us all."