By Chic DiCiccio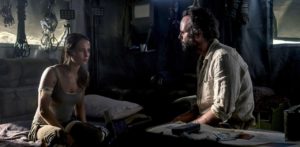 There really isn't a more perfect choice to play an adventure-seeking video game heroine than Alicia Vikander. Like Angelina Jolie before her, Vikander has the athleticism and screen presence to make an outrageous premise like that in "Tomb Raider" seem plausible. It's a shame that this reboot is an overcooked assault on the senses that is a huge knockoff of "Raiders of the Lost Ark" and "Mission: Impossible."
Vikander is Lara Croft, the daughter of a wealthy industrialist (Dominic West) who went missing when she was in her late teens. Seven years pass, and Lara spends her time in London delivering food via bicycle while dabbling in some mixed martial arts training. If her time in the ring isn't enough foreshadowing for you, a dizzying and motion sickness inducing bicycle race firmly solidifies that Lara is a tough girl who is extremely aerobically fit.
After being pressured to sign off on her father's death by his business partner Ana (Kristin Scott Thomas), Lara discovers that her pops was actually a world traveling adventurer tasked with stopping a shadowy organization called Trinity from world domination.
Trinity's current goal is to find the body of a mythical Japanese queen named Himiko, who allegedly carried mystical powers.
Lara is led to her dad's notes on Himiko and she comes to believe that he is still alive. Using the notes, she tracks him to Hong Kong, where she hires Lu Ren (Daniel Wu) to sail her to the believed final resting place of Himiko, the island of Yamatai.
Along the way, "Tomb Raider" lazily shows all the coincidental training that Lara has had that's going to help her on her journey. Random bow and arrow sitting around on an uninhabited island? We learned in a cutesy flashback that Lara happened to be an aspiring archer. This blatant foreshadowing, along with the sappy father-daughter backstory, do not help an already razor thin plot.
Also, it may be nitpicking … but suspension of disbelief can only go so far when Lara should have been killed countless times. There is one sequence that reaches such preposterous levels that it may not have been attempted in a Roger Moore Bond flick.
Norwegian director Roar Uthaug has succeeded in making "Tomb Raider" a popcorn flick with heavy doses of action and fun, but he's failed at making a movie intended to kick start a franchise. There's an open-ended feel to the movie, but there's nothing about "Tomb Raider" that makes you want to spend more time in this world.
Uthaug does get two great performances, which makes sense as they are from Vikander and Walton Goggins. Goggins isn't exactly new to being villainous, but he plays against type, and this measured, low key bad guy makes him less of a cartoon and much more hate-able. He rarely raises his voice, and the ease with which he dispenses evildoing almost grounds "Tomb Raider" in reality.
Reality was clearly a desired theme and Vikander excels while striving for it. The better moments of "Tomb Raider" all surround her being freaked out, scared and almost bursting into tears because of the events occurring around her. She's a fish out of water in a world where people are getting killed left and right and Vikander's reactions to it are inspired choices in both acting and direction. She also takes a beating for approximately 90 minutes and her physicality makes it almost believable that she could survive it. Again … almost.
Vikander does make for a great action star, but "Tomb Raider" is saddled with typical action movie issues. The choppy editing makes it impossible to follow along, and the CGI is, at times, quite poor.
These problems cancel out Vikander's unique performance and make "Tomb Raider" another mediocre, high priced movie of its kind.