By Carrie Dyer
United to Learn (U2L), a Dallas-based nonprofit that partners with Dallas ISD elementary schools to accelerate student achievement and grow purposeful leaders, will kick off three days of its annual Community Campus Day (CCD) event on Friday, January 20. The subsequent Community Campus Days will be held on March 4 and April 22.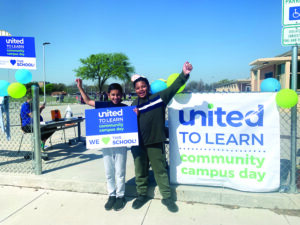 Research shows that the learning environment influences performance and shapes student aspirations. In fact, a report by Professor Peter Barrett states that a school's building environment accounts for 25 percent of a student's learning progress. Despite the important role the learning environment plays on education, enhancements and improvements are not easily afforded by school budgets, which is where United to Learn steps in. By engaging community partners and hundreds of volunteers, United to Learn works with schools on transformative projects that enhance the school environment to help close opportunity gaps — and simply make school a happier place to be.
During this year's city-wide volunteer events, United to Learn community volunteers from companies, schools, and other organizations will install 15 leveled libraries, which promote literacy achievement in students by offering access to leveled texts for self-selected reading; reinvigorate 10 outdoor learning environments, creating an engaging space for students to learn outside of the classroom, including garden refreshes, new outdoor learning spaces, revamped basketball courts and chicken coops; create and establish 10 spirit stores dedicated to motivational incentives for students demonstrating good habits, such as perseverance, leadership and empathy; set up and organize eight care closets to provide clothing for students who need a change of clothes or an additional uniform and indicating that a school is a safe learning environment for students; design four calming corners that students can utilize to regulate their emotions; and apply three hallway sensory paths, which provide students with structured brain breaks where they can focus their energy outside of the classroom space.
"One of my favorite things about CCD is seeing the light and enthusiasm in our volunteers' eyes, as they recognize they are contributing to the strength of our schools and creating more joyful spaces in which children in our city learn. Engaging and activating businesses and community groups is a critical and fun way to sustain strong schools throughout Dallas ISD. Together, we can make a significant impact," said Abigail Williams, United to Learn founder and CEO. 
 On Friday, January 20, volunteers will be spread out across 16 Dallas ISD schools installing care closets, mindfulness corners, leveled libraries and spirit stores as well as refreshing gardens. In particular, at Nathan Adams Elementary, 30 United to Learn Fellows will be working with 60 sixth graders to plant onions with fifth graders along with Farmer Kim.
United to Learn volunteers work on projects that have been specifically requested by school leaders to benefit their students, teachers and communities. Visit unitedtolearn.org for more information.