By Carrie Dyer
United to Learn (U2L), a Dallas-based nonprofit that partners with Dallas ISD elementary schools to accelerate student achievement and grow purposeful leaders, is set to kick off five weekends of its annual Community Campus Day event on February 26.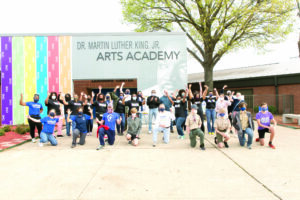 During these five Saturday events, United to Learn will mobilize community volunteers from companies, schools, and other organizations to improve campus cultures across 45 elementary schools. The events will occur on February 26, March 5, April 2, April 9 and April 23.
With Dallas facing an educational crisis, there is an urgent need to help students recover — academically and emotionally — from COVID-19 disruptions, and to accelerate the pace of learning. United to Learn knows that resources in historically underfunded schools are stretched thin. 
Furthermore, 92 percent of the students at United to Learn Dallas ISD schools are living in poverty while navigating unfinished learning. One way United to Learn helps close opportunity gaps is by improving learning environments through Community Campus Day. Research shows that joyful, enriched learning environments can increase productivity and engagement by 15 percent and more. While improving surroundings is critical, it is not easily afforded by limited public school budgets. 
"Community Campus Day is a citywide effort galvanizing the business community around our Dallas ISD elementary schools," said Abigail Williams, United to Learn founder and CEO. "Hundreds of volunteers will roll up their sleeves and come together to paint, clean, plant, build or install campus enhancements deserving of our city's future workforce. I love hearing from volunteers who feel a stronger relationship with their local school because of Community Campus Day. Together we are embracing a responsibility to support our schools financially and addressing educational equity. Fun and impact packed into just a few hours!" 
United to Learn volunteers work on projects that have been specifically requested by school leaders to benefit their students, teachers and communities. 
"Our school is always so excited to participate in Community Campus Day," said Principal Sonia Loskot of Burnet Elementary. 
"Each year, the work of United to Learn volunteers has made an incredible impact on our learning spaces, significantly improving the environment where our students, teachers and staff learn, teach and work. This year we are embarking on a school garden to build a sense of community amongst students while also fostering a sense of responsibility and ownership. The garden will also become a place of meditation and cross curricular instruction." 
In another project, Burnet is transforming a traditional classroom into a fully equipped science lab that will inspire students to see themselves as future scientists.
Other schools will be enhancing teacher wellness rooms and creating a dual-purpose "zen den" for calming individual students. 
Individuals or companies interested in sponsoring can go to unitedtolearn.org/ccd.