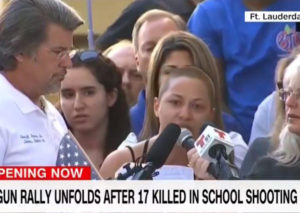 "Someone says you can't. And I say, 'Oh, really?!'" That is one of my favorite quotes from a former client, Quincy Jones, during my limo driving days in Hollywood. Right about the time he said it, he was producing and orchestrating a song. It wasn't just any song. It was called "We are the World."
Doubters told him there was no way he could gather a room full of the greatest musical talents of the time, have them perform a song together for free, and donate all the money raised from the music and the video to provide humanitarian aid for Africa. "Oh, really?!" he said. Just watch. All in all, the "We are the World" movement raised more than $63 million (the equivalent of $141 million today) for Africa and the U.S., and still continues to help those in need.
So, what can I do? Me. Little old Nancy Black sitting at her desk in Dallas, Texas on a rainy morning. How can I help our world in my own little way? I can call BS, too.
If you're not familiar with that phrase, it comes from one of the surviving students of the Florida Valentine's Day mass murder. Murder. Not "shooting." What happened was a mass murder. Anyway, this brave young girl, Emma Gonzales, stood before a huge crowd of mourners and media, and declared that today's youth will no longer accept the BS (bull sh*t) of our elected officials who line their pockets with money from the National Rifle Association (NRA). "We call BS!" she declared with tears in her eyes that reflected the horror she had witnessed days before. Then she harshly pointed out that President Donald Trump has accepted $30 million from the NRA.
Call me Pandora, but that made me just have to look. Especially with a primary election on March 6 in Texas. How much money do our local politicians receive from the NRA in campaign contributions?
"I am proud to have a career voting record score of A+ from the NRA, the highest possible rating for a Member of Congress," Pete Sessions states on his website. He's taken more than $158,000 from the NRA, according to D Magazine.
The magazine got its facts from a source called Open Secrets (opensecrects.org).
That website tracks donations the National Rifle Association makes to support Congress members. It adds up both spending for the candidate and against a candidate's opponents. "Senator John Cornyn, for example, has received more than $59,000 in NRA money. Ted Cruz, $77,000," the magazine states. That A+ rating Sessions is bragging about? It means that he has voted 100 percent of the time AGAINST gun regulations and restrictions.
I've written it before and I'll write it again. I am not against our Second Amendment right to bear arms. But the "arms" our fore fathers were referring to were muskets, not AR-15s.
I could out all the politicians in our area who are on the March 6 ballot and accept money from the NRA. Instead, I call on them (and they know who they are) to submit their own answer to the following question: Why can't we have gun reform in America?
Because they say we can't. And I say, "Why not?"