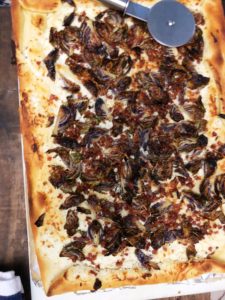 1 pound Brussels sprouts, quartered
1/4 teaspoon red chile flakes
1/2 cup ricotta cheese
1/4 cup shredded parmesan
2 ounces diced pancetta
1 pizza crust, uncooked, rolled out and placed on foil
Olive oil, salt, pepper
Heat oven to 450F. Line a sheet pan with foil.
Toss Brussels sprouts with oil and season with salt, pepper and red chile flakes. Spread into a single layer on prepared sheet pan and roast until just beginning to brown, about 10 minutes. Meanwhile, cook the pancetta in a skillet until golden, about 5 minutes. 
In a bowl, stir together the ricotta and parmesan. Season with salt and pepper. 
When Brussels sprouts are ready, remove them and the foil they're on from the oven, leaving the pan in the oven. 
Spread the crust with ricotta mixture, and sprinkle with sprouts and pancetta. Carefully transfer the pizza to the pan in the oven. Bake until crust is golden, about 12 minutes.