By David Mullen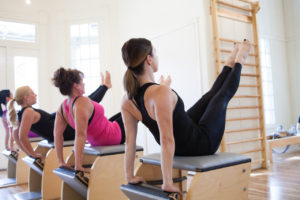 Studio owner Rachael Lieck Bryce is passionate about Pilates. So much so that her workout T-shirts contains the message "It's not yoga."
Bryce runs Pilates Methodology, located in a beautifully renovated Victorian home at 2615 Routh St. The studio is minimalist, much like Pilates equipment itself. In fact, the studio serves as a shrine to Joseph Pilates, who invented the strength training and flexibility exercise program in the early 20th century and believed in the spirit of a healthy mind and healthy body.
The two-story, 3,000-foot studio is full of Pilates equipment, many of which look a tad medieval. They have names like the "Cadillac" the "Electric Chair" and the "Guillotine." Joseph Pilates invented his method of movements, which he called "Contrology,"  on sparse machines made of wood and metal, and wrote a book on incorporating floor mats into exercise.
Virtually every Pilates machine is available at Pilates Methodology, and a series of black and white photographs of Joseph Pilates showing his exercises in detail graces the walls. "We believe that old-school Pilates gets the job done," Bryce said. "We pride ourselves on being a fully equipped studio with everything that Joe Pilates would have had."
Many local gyms have a Pilates area. "But most Pilates facilities are boutique," Bryce said. She first learned Pilates working at a studio while transitioning from being a dancer in Austin and was personally trained by a classic Pilates expert. Today, more than 11 million people are regularly practicing. Bryce said that her clientele is about 70 percent female.
"Joseph Pilates was born in Germany, immigrated to the U.S. and actually took up residence in a studio that housed a lot of famous dancers at the time." Pilates didn't like dancing. "He actually hated it," Bryce said, "because it caused so many injuries and he didn't understand why people would do such a thing. He intended it [his exercises] for men. He intended it to build hard core strength and timing. So after, you could go out and ski. You could bike. You could swim. You could do everything you wanted to do in life with ease and zest."   
For Bryce, this is her third studio. Her first was in Charlottesville, Va., opened when her husband was in graduate school. She was prompted when she found no classical Pilates training in the area. Her second studio, sold to a business partner, was in Turtle Creek. Pilates Methodology will be celebrating four years of operation this month. She is married with two children and lives in Oak Cliff. She teaches a Pilates class on Tuesday afternoons to second and third-graders at the Dallas ISD elementary school that her son attends.    
Various opportunities to train at Pilates Methodology exist, and they hold private and group classes 36 times a week. Some are equipment classes and some are mat classes. Is the premise behind Pilates to maximize flexibility and strength? "Yes and yes," Bryce said. "Pilates is, to me, the most efficient workout you can do. You get your strength training. You get your resistance training."
As opposed to popular types of exercise equipment like Nautilus, "all of the equipment is spring based, which was the basis of Joe Pilates' program," Bryce said. "Springs make your own body create the resistance. So you are getting your stretching. And once you get more experienced, you can get your heart rate up, which makes it more cardiovascular." An average workout is approximately 55 minutes. 
International Pilates Day is Saturday, May 5. "It was started by the pseudo governing body of Pilates, but we don't have a governing body." Many Pilates instructors, like personal trainers, are not required to be licensed in Texas. Bryce has gained many certificates through her two decades of training and requires her instructors to go through a 600-hour apprenticeship before teaching. 
Bryce cited the later work of Romana Kryzanowska — a disciple of Joseph Pilates — who believed in the original principles of concentration, control, center, flow, precision and breathing. But it was Joseph Pilates who left the legacy.
"It's not yoga," Bryce said with a laugh. One tour of the Pilates Methodology facility and it is very evident that this is not yoga.