By Rebecca Aguilar
Several hundred women, men and children marched one mile in downtown Dallas in the fourth annual Women's March for equal civil rights and reproduction rights. Maricela Martinez and her three girlfriends carpooled downtown to take part in the march. She said, "I march for the women who came before me, for myself and our future, my daughters, daughter-in-law, granddaughters and great-granddaughters."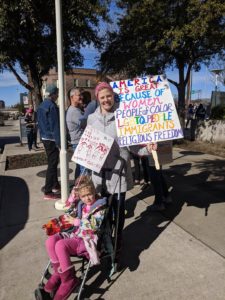 The Women's March has become an event where women shine a light on issues and causes that matter to them. Pauline Rocha was marching for the first time. On her mind were the lessons she teaches her students about the choices we make in life. "I teach them to have independent goals, and the choices they make now will determine what kind of future they will have."
Alyssa Janness' sign read, "5 Years and counting … my rape kit will get tested thanks to HB8!" The House Bill passed in April in the Texas House of Representatives. It's aimed at tackling the backlog of thousands of untested rape kits in Texas. Janness says she was raped on a cruise ship five years ago during a vacation trip with some female friends. The Women's March allows her to open the eyes of women who may not know untested rape kits keep a rapist free. "We need more women to complain, we need these kits tested and rapists put in jail," said Janness.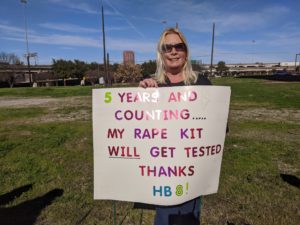 The march also honored the 100th anniversary of the 19th Amendment to the U.S. Constitution that gave women the right to vote. Raquel Borjas is involved with JOLT, the Latino organization aimed at getting more young people registered to vote in Texas. "This march makes me feel empowered. People say I'm young, but I push to get people to care about their vote," said the 19-year-old. 
Ryan Williams of Frisco brought her 17-year-old sister, Campbell Williams, to the march. Williams says as African Americans, they live a sheltered life in Frisco. The 21-year-old wanted to show her sister that many women, including women of color, have sacrificed to make their lives better. "I wanted my sister to know what life looks like for us. We need to fight for us to be heard."
As the crowd made its way to City Hall, more than 40 Trump supporters at a nearby corner stood chanting, "Trump loves America! America loves Trump!" The marchers responded with "Lock him up! Lock him up!" Patricia Flourney, 69, of Dallas, was not discouraged that the number of Trump supporters were far less than the number of marchers. She was there to support Trump and her pro-life beliefs. "I want President Trump re-elected because he is good for America." Karie Kosh of Lewisville was also showing her support for pro-life. "Strong women don't have to kill their children," Kosh said. 
More than a dozen activists and politicians took the stage at City Hall plaza to share their point of view on several issues affecting women and minority communities today. Six-year-old Salma Rios was there with her mother. 
The child held a sign with stick figure drawings of girls with three powerful words, which summed up the underlying theme of the Women's March — "Girls are Amazing."