By David Mullen
Bruce Bochy spent his early life as an Army brat living in northern Virginia and grew up rooting for the Washington Senators. As a child watching a Senators game in the upper deck of D.C. (later RFK) Stadium, Bochy decided he wanted to play Major League Baseball.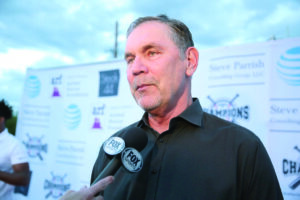 After a nine-year MLB career as a catcher, primarily with the San Diego Padres and Houston Astros, Bochy would turn to managing. For 25 years, he led the Padres and San Francisco Giants, before retiring in 2019. Bochy now comes full circle. 
Bochy came out of retirement and was introduced on October 24 as the 20th manager of the Texas Rangers, the former Senators team that relocated from Washington to Arlington in 1972. 
"I miss this game," Bochy said at his introductory press conference, disrupted by a driving thunderstorm outside of domed Globe Life Field. "There are so many things I miss about this game. [Being] in the dugout. The competition. Being part of a team. But besides that, I said that 'If I am going to jump back into the fire, it has to be the right fit.'"
Despite a sport that now depends on data analytics driven by young number crunchers who grew up in the "Participation Trophy Era," Bochy knows how to win based on getting the most out of his players. The Rangers, like the Giants before them, already knew how to participate. They didn't know how to win.
Bochy led the Giants to three World Series titles, three more than the Rangers have earned in 50 years and beat the 2010 Rangers in the process. Bochy is 67, but time is on his side.
Last year's World Series managers Dusty Baker and Brian Snitker were 71 and 66, respectively. Now 72, Baker leads the Astros into the 2022 World Series against the surprising Philadelphia Phillies. The Astros rally cry is "win it for Dusty," who hasn't won a World Series as a manager. The Astros mantra is being led by 25-year-old Yordan Álverez, Kyle Tucker and Jeremy Peña and 28-year-old Alex Bregman.
In Houston, it's not "Who's your daddy?" It's "Who's your grandaddy?"
"When I look at this team," Bochy said, "The core players, the deep system and the vision that C.Y. [Ranger Executive VP and GM Chris Young] has, I get excited. I see tons of potential for next year and years beyond. I can't wait to be part of this."
The Rangers are on a six-season losing streak. Bochy takes over a team that finished fourth in the five-team AL West in 2022 with a 68-94 record. Texas finished an astonishing 38 games behind first place Houston, despite committing nearly $500 million in long term salaries to infielders Cory Seager and Marcus Semien.
In San Francisco, Bochy went on his World Series runs with a great pitching staff. At various points, he had Tim Lincecum, Matt Cain, Madison Bumgarner, Barry Zito and closer Brian Wilson. 
His secondary concern was where the runs would come from. He had a team leader in catcher Buster Posey, but he was able to get the best out of solid, but not spectacular, players like Pablo Sandoval, Brandon Belt, Aubrey Huff and Hunter Pence.     
Bochy inherits a Ranger team that is the polar opposite of the Giants championship teams. He has little starting and relief pitching but plenty of bats, anchored by Seager, Semien, Nathaniel Lowe and Adolis Garcia. Developing a competitive pitching staff, while waiting for minor leaguers Cole Winn, Owen White, Kumar Rocker and Jack Leiter to mature, will be job one for Bochy. 
Two-time All-Star and three-time World Series champion pitcher Al Leiter, father of Jack, on "MLB Central," weighed in on the effect Bochy will have on the Rangers. "He brings a winning mindset," Leiter said. 
"This is an organization that has spent a lot of money, but they are on the clock. He can get the team to stop thinking about being a nice team that's getting better and start winning."
There have been many times over the last few seasons when the Rangers appeared to look defeated before the umpire yelled "Play Ball!" 
Young delivered the specific job criteria for what the Rangers were looking for like a Princeton graduate. "Two months ago," Young said, "we decided that a new voice was needed in our dugout. That required a lot of reflection of where we are as an organization, what we have done well, where we need to improve and how we intend to build a championship caliber team that our fans deserve." 
Young went on to point out that communication, collaboration, setting high standards, accountability and humility in alignment with core values were the key criteria.
Although maintaining that Bochy was always on top of the shortlist, Young has first-hand knowledge of Bochy's managerial style. As an MLB pitcher, Young played for Bochy in San Diego in 2006. "Bochy was our top choice," Young said. "He is a man whose leadership and success in the game speaks for itself."
"I am very open-minded. That is one thing I want everyone to know," Bochy said. "Sometimes they look at a manager that is a little bit older and they say 'this is old school' or whatever. I want the input. I want all of the information I can get. It is how you transfer it and use it in a productive way. That is part of my job and the staff's job." 
Although Bochy is a respected decision maker, wife Kim had to make the final call about Bochy wanting to return to managing and moving to Texas. "One box I had to check was with my family," Bochy said. "I have two adult boys and they were all in. But I had to convince Kim a little bit more. I can't thank her enough about being excited about this." Bochy has family in Texas.  
Bochy showed his collaborative and humble sides, thanking players, the front office, scouts, fans and even the media for their support. "We have some work to do, but I want to tell you that I am all in on this. To the players, front office and fans, let's do this together."
   Bochy is no fish out of water, but he did credit boredom as a reason for being hooked by the Rangers. "I have a pond in my backyard, and I caught the same bass 10 times," Bochy told Christopher Russo on "High Heat." "The fish looked at me and said 'Dude, you got to get a job!'" Turning the Rangers around is a whopper of a chore, and Young believes Bochy is the perfect catch.