By Deborah Brown
The Greater East Dallas Chamber of Commerce (GEDCC) is inviting the Dallas community to embark on a thrilling new adventure this summer with the release of its East Dallas Cocktail Tour Passport, a newly launched program that allows the public to explore the most vibrant cocktail scene in East Dallas. This program, which runs from June 1 through August 31, allows individuals to purchase a Passport for only $20. The East Dallas Cocktail Tour is a self-guided tour and offers a diverse range of drink specials and pricing. From margaritas to martinis, there is something for everyone. The Passport is valued at $100 and allows access to 10 of the best East Dallas restaurants for exclusive cocktail promotions.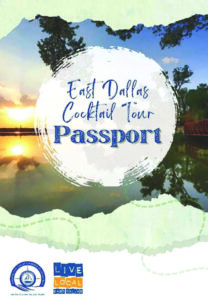 The tour is the brainchild of the Live Local East Dallas (LLED) committee of the Chamber.
"We want to help promote local businesses in the East Dallas area," said Mark Ramsey, chairman of the committee. "We know Dallas restaurant traffic slows in the summer months when so many Dallasites leave for vacation. This fun program allows people to experience the unique East Dallas scene while supporting our local restaurants."
With an East Dallas Cocktail Tour Passport, people have the opportunity to indulge in amazing drink specials, explore innovative dining menus and support local businesses. This initiative is an excellent opportunity to experience the diversity and spirit of East Dallas while also promoting the growth of local businesses. 
To take part in this self-guided tour, Passports can be purchased at eastdallaschamber.com. Beginning June 1, guests can begin redeeming the Passport benefits. The first three patrons who complete the East Dallas Cocktail Tour, receiving stamps from every participating restaurant, will be awarded a prize. With an East Dallas Cocktail Tour Passport in hand, patrons can sip and taste their way through the summer, all while enjoying eclectic energy that makes the East Dallas community so special.
East Dallas Cocktail Tour is sponsored by Jesse Benavides with Nuwave Lending. For a complete list of participating restaurants and bars, visit the website eastdallaschamber.com.