By Shari Goldstein Stern
It's not just any day that a circus pitches its tent in a pristine, two story, suburban shopping mall in the heart of a metropolis like Dallas. At the junction where NorthPark Center meets Park Cities meets Lake Highlands meets Greenville Ave. meets White Rock and merges with DART, Dallas' Shops at Park Lake isn't just any mall.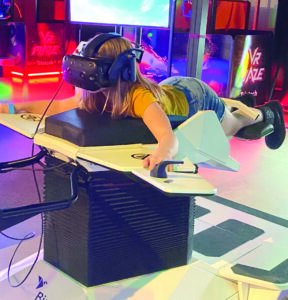 Nor is Two Bit Circus like any other of its genre. When you enter this circus, there are no wafting aromas like peanuts and elephants. It's no Ringling Brothers, may it rest in peace. This unique, otherworldly form of interactive fun is billed by its developers as "The world's first Micro-amusement park."
In Los Angeles, an inventive entrepreneur and an engineering geek pitched the circus concept, whose mission was to bring people of all ages together, elbow-to-elbow, to play. In 2018, LA's immersive entertainment venue opened. 
The 35,000-square-foot Dallas location opened in 2022. The adventure includes a reimagined Midway and an arcade filled with vintage, classic games and new hits, various story rooms, like escape room experiences, a multiplayer, Virtual Reality arena and VIP lounges.
Brent Bushnell, chairman of Two Bit Circus, said the experience is available as a bundle offering an array of packages with a range of prices. Patrons make reservations in advance, with the purchase price based on the number of guests in your group. For example: Each $35 general admission package includes access for one (1) guest and one (1) $35 player card valid towards the purchase of games and attractions and/or food and beverages on-site. Children eight and over are welcome, and the venue also has special appeal to teenagers.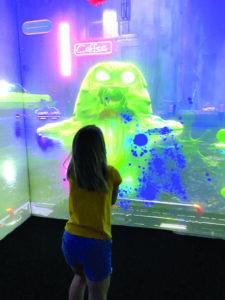 What circus would be complete without "Free-roaming, motion platforms with hectic peripherals"? Those keywords describe this newfangled form of family entertainment. The "Arena" is a zone dedicated to virtual reality (VR) experiences. Storm rooms are like escape rooms on steroids. 
At the immersive entertainment venue, finding anything traditionally circus-like is a challenge, but popcorn, cotton candy, and many other snacks and beverages are among the choices. The full menu includes pizza by the slice, chicken wings, street tacos, hot dogs, corny dogs and, for bigger appetites, a backyard burger and barbecue brisket sandwich. A loaded brownie sundae sounds great, and simple ice cream cones can hit the spot.
Educator Lisa Edwards, a Dallas native, recently took her 8-year-old granddaughter to the offbeat venue on a weekday afternoon into the early evening. Here is what she had to say: "After being greeted and checked in with park access and a player card, we found games and food on our adventure. Of course, taking pictures was a priority. I soon realized that it would require skill. Photographing faces is a different kind of art when the faces are behind goggles.
"My granddaughter directed us to the Hyperdeck for our first combo-ride and game. We had several scenarios to choose from. The floor moves with warm and cold air blowing during the 4D game of shooting stars. It was awesome." Edwards continued, "My granddaughter was transformed into a VR bird while lying down, flying over the scenery she saw through her goggles, operating her wings with her hands. VR laser tag was a hoot, too. I'm a cool young grandma. Our next step was a story room. The scene was all of us in the room, strangers then friends, shooting jelly blobs."
Edwards added, "There is a bar filled with fun food. The wings were great. The waitstaff are robots!" 
There are several individual rooms with views for gatherings. Midway tag games, basketball toss, dance pad competitions, shooting targets, skeet ball and hungry hippos are some of the other games available.
"We did all the fun stuff," the feisty grandmother said. "We had a great adventure. She was as impressed with my skills as I was with hers."
According to the owners: "Two Bit Circus supports a parallel 501(c) (3) nonprofit organization, Two Bit Circus Foundation. Its mission is to cultivate the next generation of inventors, advance environmental stewardship, and spur community engagement by providing schools and youth of all means with access to hands-on STEAM learning (Science, Technology, Electronics, Art and Architecture, and Mathematics)."
Two Bit Circus is located at The Shops on Park Lane, 8030 Park Lane between Central Expressway (I75) and Greenville Ave. For additional information and for reservations, visit twobitcircus.com or call 469-405-6166.