By David Mullen
There's no place like Christmas in San Diego. In 2022, California's coastal paradise becomes Major League Baseball's winter wonderland and home to its largest holiday bazaar. 
For baseball fans, owners and teams, the 2002 Baseball Winter Meetings — held at the Marriott Marquis on San Diego Bay December 5 through 7 — is a time of swapping valuable gifts, picking up prospects and writing big checks. Teams come to town with a wish list, spend a lot of money on players and hand out guaranteed contracts like candy canes. High profile players learn that it is better to receive than give.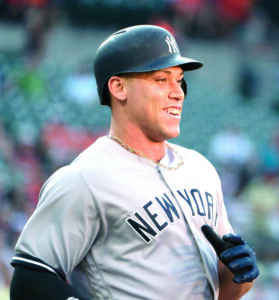 Two wealthy shoppers — the New York Yankees and San Francisco Giants — came to the meeting fighting over the services of AL MVP Aaron Judge like he was on the cover of the Neiman Marcus holiday catalogue. The big winner is Judge, who at press time appears content to stay in the Bronx to the merry tune of nine years and $360 million or $40 million per year guaranteed. 
The Philadelphia Phillies added shortstop Trea Turner (11 years, $300 million) and pitcher Taijuan Walker (four years, $72 million) to a World Series team already with plenty of gifts. Turner gets to play every day with Bryce Harper (when he returns from repairs), Kyle Schwarber, J.T. Realmuto, Nick Castellanos and Rhys Hoskins, creating an imposing lineup. The Phillies had better hope that teammates and fans don't grow weary of their new toys. Philadelphia fans famously booed Santa Claus. 
Missing out on Judge, the Giants scored Mitch Haniger (three years for $43.5 million) for their outfield and are searching for a high-priced shortstop. The Chicago Cubs signed former MVP outfielder Cody Bellinger to a one-year, $17.5 million deal and ex-Yankees pitcher Jameson Taillon to four years and $68 million. And former Dallas Jesuit first baseman Josh Bell signed a two-year, $33 million deal with Cleveland. 
Even though the World Champion Houston Astros already have plenty to play with, they signed former AL MVP José Abreu for a three-year, $58.5 million contract. 
The Texas Rangers, buoyed by owner Ray Davis' massive checking account, started Christmas shopping before the malls opened. First, GM Chris Young invited longtime and highly respected baseball executive Dayton Moore to the holiday party as senior advisor of baseball operations. And new Rangers manager Bruce Bochy brought pitching coach Mike Maddux back home. He has always been a family favorite. 
To give Maddux some starting pitchers to toy with, Young signed former New York Mets Cy Young Award winner Jacob deGrom to a five-year, $185 million deal and brought in hard throwing lefthander Andrew Heaney for two years at $25 million to keep deGrom company. Last year, the Rangers spent $500 million on Corey Seager, Marcus Semien and Jon Gray and still lost 94 games.
After a woeful pitching year in 2022, Texas now has deGrom, Heaney, Grey, Martin Perez, newly acquired Jake Odorizzi, Glen Otto, Dane Dunning and a slew of young arms for five spots. The rap on deGrom is that he is injury prone, but when healthy, he becomes the best pitcher in the highly competitive American League.
After being unable to re-sign deGrom, the Mets signed Houston's AL Cy Young Award winner Justin Verlander for two years at $86 million with a 2025 vesting option for $35 million when he turns 42. That's quite a retirement package. The Tampa Bay Rays, a team usually crafting their own gifts, signed pitcher Zach Eflin for three years, $40 million. It is the Rays largest free agent signing in 25 years.
Low budget teams, like the Oakland Athletics, Pittsburgh Pirates and Miami Marlins, ended up with coal in their stockings, not to be confused with New York Yankees ace righthander Gerrit Cole.
As a precursor to the wheeling and dealing at the Winter Meetings, on December 4, the inaugural contemporary baseball era committee unanimously elected Fred McGriff into the Baseball Hall of Fame. Former Yankees first baseman Don Mattingly fell four votes short with eight of the 16 votes. Pitcher Curt Shilling finished with seven.
Alleged performance enhancing drug (PED) users — all-time home run leader Barry Bonds and 354-game and seven-time Cy Young Award winner Roger Clemens — were once again denied entry into the Hall of Fame. They will not be eligible for a Hall of Fame vote again until 2025. 
McGriff was a great player, but a unanimous Hall of fame selection seems gratuitous. He was never close to election by the Baseball Writers Association of America in traditional voting. He played for six different teams (Toronto, San Diego, Atlanta, Tampa Bay, the Cubs and Los Angeles Dodgers) in 19 seasons, was a five-time All-Star but never won an MVP Award. In his career, he hit 493 home runs and had 2,493 hits. 
Mattingly (pictured above) is penalized for a career shortened by a bad back, but he played for one team (Yankees), was the 1985 AL MVP, won seven Gold Glove Awards and finished with a career .307 batting average. His unwavering commitment to the game earned him the nickname "Donnie Baseball."
While Bonds and Clemens remain ostracized from the Hall of Fame for their suspected cheating, commissioner Bud Selig and managers Tony LaRussa and Bobby Cox are in the Hall of Fame despite turning a blind eye to PED usage during the Steroid Era.
McGriff was constantly good and very popular. Bonds and Clemens were consistently great but were unpopular with the media and are accused of cheating. It appears baseball's greatest power hitter and one of their greatest starting pitchers will never enter the halls of Cooperstown.
Now that the Winter Meetings are closed, clubs will continue to shop online. For McGriff and several wealthy baseball teams like the Texas Rangers, Christmas came early this year.