1/2 cup Korean gochujang.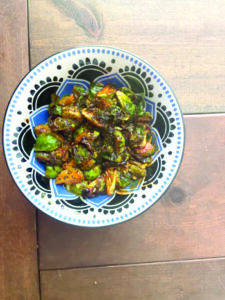 3 tablespoons 
vegetable oil, divided  
1/4 cup coconut aminos  
3 tablespoons honey 
1 pound Brussels sprouts, quartered 
Whisk together gochujang, 1 tablespoon oil, coconut aminos, and honey in a small mixing bowl. Season with salt. 
Heat a large cast-iron skillet over medium-high heat. Add remaining oil to the pan, then add Brussels sprouts.
Cover and cook for 2 minutes. Then remove lid and stir-fry uncovered for 2 minutes more, stirring occasionally to brown all sides. Turn down heat if needed if any are getting too brown. Add gochujang sauce and stir-fry for 1-2 minutes more to coat. Sprinkle with sesame seeds and serve.