By Chic DiCiccio
The pitchforks and torches are on the ready. Fans are prepared to revolt and critics (including this one) are salivating at the chance to smite Disney for their opportunism. The live action remake of "Aladdin," one of the most beloved cartoon films of all time, is ripe for dismissal.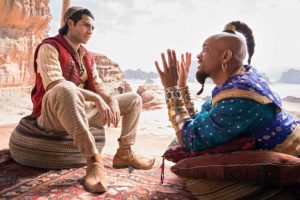 Sheath your weaponry, Keyboard Warriors, and face the facts. "Aladdin" is a blast. It's funny, gorgeous to watch and even its unnecessary length of 128 minutes flies by at a truly entertaining pace. Who could have guessed that Guy Ritchie would have finally found his commercial and artistic sweet spot while directing a Disney film? 
It's ridiculous to summarize the plot of "Aladdin" for anyone that has been breathing since approximately 1990, but here goes. Aladdin (Mena Massoud) lives on the streets of a fictional Arab city called Agrabah where he steals and scams his way through life, albeit in a culturally responsible way. By chance, he meets Jasmine (Naomi Scott), a smart woman who wants nothing more than to shirk her preordained, backseat role as a princess. 
Jasmine wants to be heard and not seen, which doesn't jive with the evil Jafar (Merwan Kenzari), who has his claws firmly entrenched in her father, The Sultan (Navid Negahbah). 
Of course, Jafar is playing the game of thrones with his eye on the Sultan's seat and he needs the magic of the Genie to complete his conquest. 
So, let's get to what has everyone in a tizzy: the Genie and the audacity to do this without the now deceased Robin Williams. Well, guess what? Will Smith makes this role his own and does it without copying Williams or besmirching his memory. 
He avoids the mania of Williams' Genie and plays him as a friendly trickster with just the right amount of awkwardness and arrogance. After years of serious roles for Smith, it's downright refreshing to see him having so much fun on screen and it's a reminder of how entertaining he can be. 
Also, it's surprising just how hilarious "Aladdin" is. The screenplay is credited to Ritchie and John August, who seem to have tailored every single word to be perfectly acted out by the cast. There are a handful of scenes, particularly one with former SNL cast member Nasim Pedrad, that are adorably funny. 
That's not to say that "Aladdin" has no problems. The Aladdin-Jasmine romance is rushed and feels forced. Massoud and Smith do their best, but they lack the vocal chops to compete with the far superior Scott during the musical numbers. In fact, Scott's performance of the movie's only original song is a shoo-in for an Academy Award nomination. 
Speaking of nominations, you can safely put money on Oscar noms for nearly every single design category imaginable. The costuming and sets are impeccable and there's an unlimited amount of eye candy. The effects are a bit "meh," but the dance numbers are an absolute joy. 
Even though it sounded like a cringe-worthy idea, "Aladdin" is a pleasant surprise. The built-in, Disney Junkie audience is a given, but this has all the elements of a word of mouth runaway hit. And don't worry, there's no forced Will Smith rap song … until the end credits and even that shouldn't knock the smile off your face.