By David Mullen
The Dallas Mavericks 2019-20 season begins on Tuesday, Oct. 8 with an exhibition game against the Thunder in Oklahoma City. This will be their first year without Dirk Nowitzki since 1998. While the Mavs build for the future, the NBA, because of offseason trades and free agent signings, has never been more wide open. There is no clear-cut favorite, with the possible exception of one lineup that is the most popular NBA team on TV.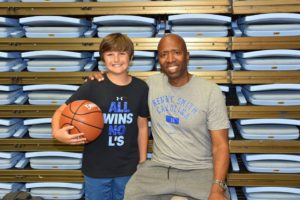 Kenny Smith, along with Ernie Johnson, Shaquille O'Neal and the venerable Charles Barkley, star on "Inside the NBA" on TNT, unquestionably the best sports show on television. Demonstrating a perfect balance of information and humor, "Inside the NBA" has won nine EMMY Awards and has been inducted into the Broadcasting & Cable Hall of Fame.
The nattily-attired Smith, who spoke to me recently before the SMU Athletic Forum at the Hilton Anatole, excelled at the famous basketball breeding ground of Archbishop Molloy High School in Queens (where he was a McDonalds All-American in 1983), played at the University of North Carolina (UNC) with Michael Jordan under head coach Dean Smith, was a first round NBA draft pick of the Sacramento Kings coached by all-time great Bill Russell, is an Olympic Gold Medalist and has been part of Turner Sports for more than 20 years. If that is not enough, he is married to former "The Price is Right" model Gwendolyn Osborne.
Not bad for a kid from a tough New York City borough.
"The diversity of New York City," Smith, 54, said, "the melting pot of people, activities and players gave me a bigger perspective on what to expect. I wasn't shocked that there were great players when I went to different places. I think that helps you when you know the road that you are about to hit."
But there must have been a culture shock leaving New York for Chapel Hill, N.C. "Not really. Raleigh-Durham is about 150,000 college students from 18 to 25 [years old]. You can always find someone from your area. But it's different. I always say that The Research Triangle is in the South, but it is not the South."
During high school, Kenny Smith met Dean Smith, the coach of UNC for 36 years and referred to as a "coaching legend" by the Naismith Memorial Basketball Hall of Fame in Springfield, Mass. "There was not an adult decision that I ever made without touching base with him [Coach Smith]," Smith said. "I talked to him about everything from relationships to buying a house. I always tell other players when they talk about coaches they had that you can't compare them to Coach Smith. It was like playing for Gandhi or Nelson Mandela. He could take 12 players and treat them all the same." 
Smith's first coach in the NBA featured the cerebral Russell. "I got to sit next to him on the plane. As a rookie, my seat was next to his," Smith said. "So I heard all of the Boston Celtics stories." Russell won an individual record 11 titles with the Celtics, the most of any player in professional sports team history (tied for first with Montreal Canadiens great Henri Richard). "I heard all of the Civil Rights stories. I heard stories about Martin Luther King, Jr. and Malcolm X. He is a national treasure." 
The best players that Smith faced in the pros were Michael Jordan and Hakeem Olajuwan (his teammate with the Houston Rockets). "What Michael was able to do for eight to nine years," Smith said. "Hakeem did for those two years. He put the fear in people just like Michael did." "Those two years" Smith referenced were the back-to-back NBA titles that he and Olajuwon shared in Houston in 1994 and 1995. He is optimistic of the future of the Mavericks, as they look to mesh the talents of reigning Rookie of the Year Slovenian Luka Dončić and Latvian Kristaps Porziņģis. "They could change the landscape of basketball for five to seven years, if Porziņģis can stay healthy. There used to be a prejudice against international players. Now they are just basketball players."
He just returned from Europe and was awed by the growth of professional basketball globally. He noted that Nowitzki, once dubbed as "international," has lived in Dallas longer than in his native West Germany. 
"Inside the NBA" is as celebrated for its spot-on opinions as it is for the unbridled comedy, which appears seamless, not forced. "It starts way before we get onto the set," Smith said. "And if we are in the same hotel on the road, it's even more. What you see is a continuation of a conversation that bleeds onto the show." 
Smith, who also owns a video production company and has had a hand in the high-tech graphics that are a part of the TNT presentation, hopes to coach or be in a NBA front office at some point. "It is definitely in the cards," Smith said. "The wealth of information you acquire in relationships over 20 years sometimes doesn't get used if you are doing the same job. I think I can put a championship team together."
There is no doubt that Smith isn't boasting, just stating a fact. In high school, college, the Olympics, the NBA and on television, Smith knows a thing or two about being part of a championship team.