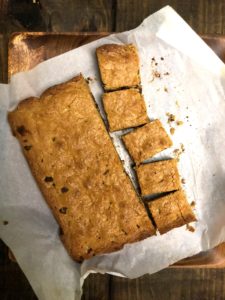 2 sticks butter
3/4 cup brown sugar
1 1/2 teaspoons kosher salt
2 teaspoons vanilla
2 eggs, beaten
1 1/2 cups flour
1/2 cup whole wheat flour
1 cup chocolate chips
Heat oven to 350F. Line an 8×8 baking pan with parchment.
In a saucepan, melt butter over medium heat, then continue to cook until the butter is golden brown with dark brown flecks on the bottom of the pan. Stir in brown sugar, salt and vanilla; set aside to cool. When dough is cool, stir in eggs, then flour. Stir in chocolate chips.
Bake until top is shiny and starting to crack and edges are set, about 30 minutes. Let cool in the pan for 10 minutes before removing.