By David Mullen
As is the tradition of this column at the beginning of a new year, we look back at the personalities who passed away in the previous year but had a profound impact on the sports that they served. Many were pinnacles of their game, including seven baseball Hall of Famers and one who deserves enshrinement.
Members of Cooperstown who passed were Al Kaline, 85, the classy right-handed hitter called "Mr. Tiger," Tom Seaver, 75, the most visible player on the "Amazing Mets" 1969 World Series champion team, St. Louis Cardinals legends Lou Brock, 81, one of the greatest leadoff hitters and base stealers of all-time and Bob Gibson, 84, one of the most competitive pitchers in MLB history, Whitey Ford, 91, the greatest starting pitcher in New York Yankees history, Joe Morgan, 77,  who was born in Bonham, raised in Oakland and a two-time NL MVP as a member of Cincinnati's Big Red Machine and Phil Niekro, 81, a knuckleballer with 318 career victories.
The pride of Wampum, Pa., Dick Allen, 78, a feared hitter that fell one vote short of induction to the Hall of Fame in Golden Era Committee voting in 2014, also died. As artificial turf became a part of baseball stadiums, Allen famously said, "If a horse won't eat it, I won't play on it."
Other sports players and personalities who died in 2020 include:
David Stern, 77. Former NBA commissioner who transformed the league into a global and cultural phenomenon and financial power.
Pete Dye, 94. One of the world's most famous golf course architects and the designer of the 17th hole with the island green at TPC Sawgrass. 
Kobe Bryant, 41, his 13-year-old daughter Gianna and three others were killed in a helicopter crash. An 18-time NBA All-Star with the Los Angeles Lakers, Bryant is recognized as one of the greatest professional basketball players of all time.
Mickey Wright, 85, won 13 majors among her 82 victories and was a pioneer on the LPGA Tour. 
Fred 'Curly' Neal, 77. Recognized for his shiny, slick head, the Harlem Globetrotter entertained millions live and on TV worldwide with his impeccable dribbling skill.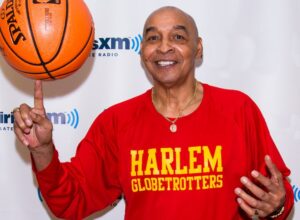 Eddie Sutton, 83. Synonymous with Oklahoma State basketball, the head coach won more than 800 games for the OSU, Arkansas and other schools in a career that spanned five decades.
 Don Shula, 90. The winningest head coach in NFL history, Shula led the Miami Dolphins to the only perfect season in league history.
Phyllis George, 70. The former Miss America became a female sportscasting pioneer on CBS's "The NFL Today."
 Wes Unseld, 74, was one of the leading "blue collar" players in NBA history and an NBA Champion with the Washington Bullets. 
Unseld was chosen one of the 50 greatest players in league history.
John Blake, 59. He played nose guard and later served as the head football coach for the Oklahoma Sooners, becoming the school's first Black head coach in any sport. 
Lute Olson, 85. The white-haired Hall of Fame head basketball coach of the University of Arizona, where the basketball court bears his name.
 Chadwick Boseman, 42. Before the actor gained worldwide fame in "Black Panther," Boseman played Jackie Robinson in the 2013 film "42" and fictional linebacker Vontae Mack in the 2014 film "Draft Day." 
John Thompson, 78. The Hall of Famer and former Georgetown men's basketball coach became the first Black coach to win the NCAA Tournament in 1984.
Gale Sayers, 77. One of the greatest running backs and returners in NFL history, the Chicago Bears star's career was cut short by knee injuries. His friendship with cancer-stricken teammate Brian Piccolo was chronicled in the TV movie "Brian's Song."
Paul Hornung, 84, the "Golden Boy" of Notre Dame football and the Green Bay Packers great was a multi-purpose offensive threat.
Diego Maradona, 60. Recognized as one of the greatest soccer players of all time, he led his native Argentina to the 1986 World Cup title.
Markus Paul, 54. The Dallas Cowboys were shocked to learn of the death of the team's strength and conditioning coach after he suffered a heart attack at The Star in Frisco.
Rafer Johnson, 86. The popular U.S. Olympian and later actor and activist won the decathlon at the 1960 Rome Olympics and lit the Olympic cauldron at the 1984 Olympic Games in Los Angeles.
Fred Akers, 82, was head football coach at the University of Texas from 1977 to 1986. He also coached at Wyoming and Purdue and compiled a record of 108–75–3.
Charley Pride, 86. The legendary musician known as "the first African American country singer," the longtime Texas Rangers fan and once part owner, Pride singled in 1974 in an exhibition game off Baltimore Orioles Hall of Fame pitcher Jim Palmer. Palmer retrieved the ball, tossed it to Pride and tipped his cap. 
Kevin Greene, 58. Identified by his flowing blonde locks, the fierce linebacker is the third all-time sack leader and was enshrined into the NFL Hall of Fame in 2016.
K.C. Jones, 88. The Hall of Fame guard won an NCAA championship with the University of San Francisco Dons and 10 titles as a player and coach for the Boston Celtics.
Ty Jordan, 19. The 2020 Pac-12 Offensive Freshman Player of the Year played in college for Utah, in high school at West Mesquite and died on December 25 of an accidental shooting in Denton.
Baseball also lost players Don Larsen, Tony Fernandez, Ed Farmer, Claudell Washington, Jay Johnstone and Bob Watson, Yankees co-owner Hank Steinbrenner and manager John McNamara.
Football lost players Chris Doleman, Willie Wood, kicker Tom Dempsey, Bobby Mitchell, Tarvaris Jackson, Rickey Dixon, Fred Dean, Dolphins Jim Kiick and Jake Scott, Hall of Fame cornerback and former Packer and Cowboy Herb Adderley and pro and college coaches Sam Wyche, George Perles, Joe Bugel, Pat Dye, Johnny Majors and Ray Perkins.
Basketball lost former ABA commissioner and father of ESPN's Hannah Storm Mike Storen, player/coaches Jerry Sloan and Tommy Heinsohn, coach Lou Henson and player Clifford Robinson. Hockey lost former Boston University player Travis Roy, paralyzed 11 seconds into his first college shift who became an advocate for the disabled and Henri "The Pocket Rocket" Richard. Texas Tennis Hall of Famer and five-time Grand Slam doubles champion Dennis Ralston died in Austin.