Meat: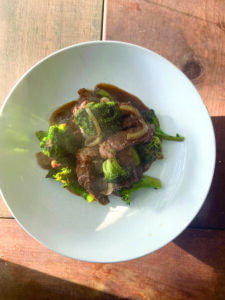 1 tablespoon soy sauce
1 tablespoon cornstarch
1 pound sirloin or flank steak, cut into 
1/4-inch strips
Sauce and broccoli:
1 head broccoli, cut into florets
1/2 cup chicken stock
2 tablespoons Shaoxing wine or dry sherry
3 tablespoons soy sauce
1 tablespoon honey
1 tablespoon cornstarch
1/2 teaspoon kosher salt
1/2 onion, thinly sliced
1 tablespoon minced garlic
2 teaspoons minced ginger
Vegetable oil
Rice, for serving (optional)
In a bowl, whisk together soy sauce and cornstarch. Add beef and toss to coat. 
In a wok or deep skillet over medium heat, bring 1 cup water to a boil. Add broccoli and cover. Let steam until bright green, about 3 minutes. Transfer to a bowl and pour water out. 
In a small bowl, whisk together wine, soy sauce, honey, cornstarch and salt. 
Heat 2 tablespoons oil in wok over medium heat, Add beef and cook until lightly browned, about 3 minutes. Add onion and cook until wilted, about 2 minutes. Add garlic and ginger and cook 30 seconds. Add broccoli back to pan, then add sauce. (Stir before adding to make sure cornstarch is mixed in.) Cook, stirring, until sauce coats everything and has thickened, about 2 minutes. Serve with rice, if desired.