By Kendal Ecker Gheen
City Hospital at White Rock now offers Genius 3D Mammography exams, developed by Hologic, Inc., a worldwide leader in Women's Health. Utilizing advanced breast tomosynthesis technology, these exams are clinically proven to significantly increase the detection of breast cancers, and also decrease the number of women who are asked to return for additional testing. "We are excited to be able to provide our East Dallas community with a more comfortable and advanced cancer screening exam," said Shawn Lovelady, COO of City Hospital at White Rock.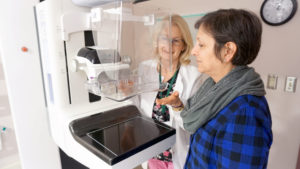 In conventional 2D mammography, overlapping tissue is a leading reason why small breast cancers may be missed and why normal tissue may appear abnormal, leading to unnecessary callbacks. The three-dimensional method of imaging can greatly reduce the tissue overlap effect. During a 3D mammography exam, an X-ray arm sweeps in a slight arc over the breast, taking multiple images. A computer then converts the images into a stack of thin layers, allowing the radiologist to review the breast tissue one layer at a time. 
"These innovations come as part of City Hospital at White Rock's ongoing commitment to superior breast cancer detection and provide an improved mammogram experience for our patients," said Dr. David Zorinsky, fellowship-trained breast imaging specialist.
The SmartCurve system features a proprietary curved surface that mirrors the shape of a woman's breast, which helps reduce pinching and allows better distribution of force over the entire breast. In a recent clinical study comparing the SmartCurve breast stabilization system to traditional flat paddle compression, the SmartCurve system improved comfort in 93 percent of women who reported moderate to severe discomfort with standard compression. In addition, 95 percent of those surveyed would recommend facilities that use this system.
3D mammography exams are revolutionizing how breast cancer is detected by providing a better option for women of all breast densities compared to 2D alone. Researchers have found:
• The Genius 3D Mammography exam finds 20-65 percent more invasive breast cancers compared to 2D alone, an average increase of 41 percent.
• Only the Genius 3D Mammography exam is FDA approved as superior for women with dense breasts compared to 2D alone.
• The Genius 3D Mammography exam reduces callbacks by up to 40 percent compared to 2D alone.
City Hospital at White Rock is committed to the fight against breast cancer. In offering the Genius exam, City Hospital at White Rock offers a more accurate breast cancer screening option. 
Patients may schedule a 3D Mammography exam, or inquire about this important health procedure by contacting City Hospital at White Rock scheduling department at 214-324-6332.