By Fran W. Cashen
Unique and happy events occur this month. It's both the 45th Anniversary of Logos Bookstore as well as its owners, Susan and Rick Lewis. Logos Bookstore has been a mainstay in its only location at 6620 Snider Plaza in Highland Park. And the Lewises have become part of many families' celebrations from Lakewood to Preston Hollow with moms and dads coming in their store to buy books, gifts, cards, jewelry, wall plaques, toys, home décor and to choose from an entire room of children's books — the classics as well as Bible story books. 
So how did this love affair for books and each other begin? As a young man, Rick Lewis would hang out at Logos Bookstore on Saturdays. The store was originally opened in 1974 by Chuck and Lois Schechner. Chuck noticed Rick's interest in books, so he eventually offered him a job. Rick started working at Logos in 1980 and bought the store in 1989. Rick and Susan met in college at Stephen F. Austin University and got married at Highland Park Presbyterian Church after Rick graduated. Rick continued working in Logos, and Susan was very busy raising three little boys and also had several part-time jobs. She had originally told Rick she didn't have any interest in working at the store — but God had a different idea. Susan has been the gift buyer and Rick's love still lies in books, so he is the book buyer and is sought after by many others in the industry for his knowledge and expertise. Even their three sons have worked at Logos on and off throughout the years.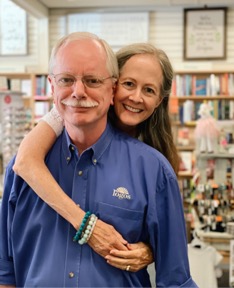 Logos is well known for its CS Lewis section. A lover of CS Lewis herself, while Susan was dating Rick, she thought, "I could have a son named CS Lewis." And guess what? They not only have a son named CS Lewis, their grandson is also CS Lewis!
Park Cities resident and long-time shopper Callie McDole, said: "I love their special gifts, books and cards that only they have. Love the Rebecca Ellis' crosses they sell and Logos is my go-to place for a special remembrance." 
Susan and Rick have been pleased to support various causes, groups, schools and churches in the area. Rick says, "We want to be a bridge to the community, and we want to reach out to wherever people are in their spiritual journey to help move them along." Logos serves all denominations of the church.  
Having had book signings in the store, as often as one per week, many celebrities have appeared in Logos during its 45 years. President Jimmy Carter signed 2,000 of his "Sources of Strength" and children's books in just two hours. It was 1997, and the line went all around the block. "We don't think our customers are aware that we have a table in the store autographed by President Carter," stated Susan. "We had to purchase a table especially for him to do the signings because his Secret Service wouldn't let the president sit with his back exposed inside our check-out center where all our guest authors sit. So, we went around the corner and bought a table for him at Weir's. After the event, I asked him to sign it," Susan cheerfully added. It's still in Logos, featuring new releases on it.
Charlton Heston, author of "Charlton Heston Presents the Bible," did a book signing of his coffee table book with pictures of Charlton Heston in the Holy Land, and his assistant told Susan that he considered it the most important work of his life. 
"Logos is so much more than a bookstore, over so many years of shopping there, my soul has been revived in and through that slice of heaven in Snider Plaza," said friend and Bible study teacher Becky Bain.
What's ahead for Susan, Rick and Logos? Susan says, "We are very grateful to be a part of the business and ministry at Logos and look to continue for many years. We believe we should pursue whatever door the Lord opens for us." And shouldn't we all?
Susan and Rick invite everyone in the area to join them in celebrating their 45th Anniversary.  There will be Anniversary Specials throughout the month with storewide savings beginning Saturday, Sept. 21. The Lewises will also be serving bubbly and cake, and shoppers can register for different giveaway items and enjoy anniversary discounts up to 45 percent.