By Emily Maldonado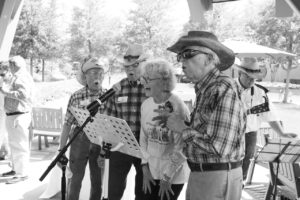 CC Young is excited to announce its first annual Good Neighbor Award, which honors a resident or community member for their acts of kindness around the senior living campus. This year's award will be presented to former CC Young resident Lynn Duvall for her dedication to feeding, walking and general care of CC Young campus pets. Lynn was recognized at a pet-themed party under The Pavilion at CC Young on June 13. Area vets and all pets joined in on the fun.
Lynn's love of CC Young pets began in 2010 when she and her husband, Bud Duvall, were residents of The Asbury at CC Young.
Lynn happened to be walking around campus when she saw a staff member feeding three cats and offered to help. The rest is history. Since then, the initial group of three has changed, expanded and changed again.
Lynn names each cat to reflect its personality with names like Buddy, Fuzzy, Babycakes, Grace, Donna Marie, Annabelle, Blackie, Spook and Sebastian.
Lynn feeds the pets twice a day, and it is always a fine sight to see. With the assistance of the Trap, Neuter and Release (TNP) program Dallas has in place, as well as the non-profit organization Feral Friends, Lynn assures that each cat is spayed by the SPCA and brought back to the CC Young campus.
Lynn's love of pets has also garnered the support of friends who donate cat beds, baby blankets and other items to help her four-legged friends survive the weather. As a result of Lynn's work, some cats have lived up to 13 years. "There are so many residents and members of the surrounding community that hold inspiring stories, and Lynn Duvall is a perfect example," said CC Young's President and CEO Russell Crews. "It's important for us to honor those who contribute daily to the betterment of our campus with their kindness and service and show them how valuable they truly are."