Muffins: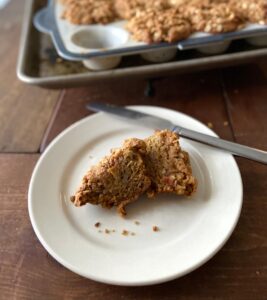 1 1/2 cup flour
1 teaspoon baking soda
1 teaspoon kosher salt 
4 ripe bananas
1 egg
1 teaspoon vanilla
1 cup sugar 
1/4 cup butter, melted and cooled
PB-Bacon Streusel
1/2 cup flour
1/2 cup dark brown sugar
1/2 cup oats
1/2 teaspoon kosher salt
1/4 cup butter
1/4 cup peanut butter
6 slices cooked bacon, finely chopped
Heat oven to 350F. Spray a 12-cup muffin pan or line with paper liners. 
Make muffins: Sift together flour, baking soda and salt. Set aside. In a mixing bowl, mash banana with a whisk until mostly smooth, then whisk in egg and vanilla. Then whisk in sugar and butter. Stir in flour mixture. 
Make streusel: Stir together flour, brown sugar and oats. Cut in butter and peanut butter. Mix in bacon. 
Fill muffin cups with batter, then top each with streusel. Bake until a skewer inserted in the center of a muffin comes out mostly clean, about 45 minutes. Let stand 10 minutes before removing from pan.