WOMEN TEXAS FILM FESTIVAL
By John Wildman
Women Texas Film Festival (WTxFF), presented by Methodist Dallas Medical Center, today announced the official selections for the fourth year of the critically-acclaimed Dallas-based film festival, which focuses solely on the work of female filmmakers from Aug. 15-18. Returning to the historic Texas Theatre at 231 W. Jefferson Blvd., WTxFF has expanded its reach across Dallas. Additional screenings will take place at Methodist Dallas' David H. Hitt Auditorium at 1441 North Beckley Ave., and Alamo Drafthouse Cinema Cedars (1005 S. Lamar St.), as well. Emily Cohn's "CRSHD" opens the film festival, and Bridget Stokes' "Emmett (Boy Genius)" is the Closing Night Selection. WTxFF has also continued to grow in terms of the number of films programmed, with this year's edition nearly doubling the number of features that were offered last year, as it showcases 17 feature-length films, and 29 short films.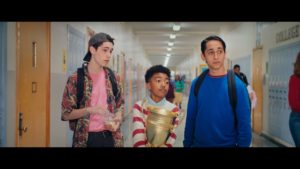 WTxFF Founder and Artistic Director Justina Walford said: "It is getting harder and harder to contain within four days all of the amazing films I find. Women Texas Film Festival has grown every year and we have nearly doubled in content. Three locations. Seventeen features. So many short films that we selected out of an ocean of compelling short film submissions. And since our goal is to show the range of the female storyteller, you will see every genre, every style. The notion of gender behind the camera takes a backseat to the grit, emotion, and vision projected on the screen. As it should."
Following a tradition begun last year, WTxFF will celebrate its alumni and the top female filmmakers in Dallas, Fort Worth and North Texas on the film festival's red carpet, prior to the opening night gala featuring Emily Cohn's stylish debut, "CRSHD," Thursday, Aug. 15 at the Texas Theatre. "CRSHD" follows three online-addled best friends at college on a mission to lose their virginities before their freshman year ends. That is when a prime opportunity presents itself as a Crush Party springs up. 
The rules are: you can submit your crush to have them invited to the party, but you can only get in yourself if somebody else crushes you. Naturally, our trio get the idea to try and circumvent those rues in order to get in and take aim at their boy-targets.  
Bridget Stokes' "Emmett (Boy Genius)," an Audience Award and Best Actor ("Blackish" star Miles Brown) winner at the Newport Beach Film Festival will serve as the closing night selection on Sunday, Aug. 18, at the Texas Theatre. In the film, Emmett is a popular junior who also happens to be a highly imaginative 12-year-old genius. After his brother is accused of being involved in a rash of thefts at school, Emmett must prove his innocence before his brother is sent off to a boarding school. As part of his plan, he recruits an SAT tutor and crime novelist to help him find the real culprit. 
Film festival passes and tickets are on sale now. VIP passes are $75 and allow access to all films, parties and events, and student passes, which include access to all WTxFF parties and events, are $35. Individual tickets are $11. For more information on the Women Texas Film Festival go to WomenTxFF.org.