STATE FAIR OF TEXAS
By Shari Goldstein Stern
Elizabeth Taylor and Princess Grace each spent more than one nine-month period of their lives sharing their bodies with another human in the making. As high-profile women, each had the challenge of looking beautiful during those precious times. 
Debbie Reynolds, Lucille Ball and Judy Garland had the same dilemma of how to "hide" their pregnancy. All those women would probably roll over in their graves today if they saw the popularity of proudly showing off or even emphasizing that baby-bump, occasionally showing skin.
Fortunately for those celebrities, three inventive sisters in Dallas had recognized a need and set out in 1938 to create the first maternity fashion line. Women everywhere wore maternity clothes from the first label in that market, Page Boy Maternity Fashions.
The 2018 State Fair of Texas (SFOT) Texas Innovations exhibit in the Hall of State features a wide variety of innovative products created by Texans. The Page Boy Maternity line was ground-breaking in the late 1930s and had a reach far beyond its origin in Dallas. 
If you're a woman of an age to remember Page Boy's label and retail stores, you may not realize the first maternity fashion line was "born" in Dallas and set the fashion world on its ear. In fact, one of its flagship stores was in NorthPark Center.
Edna, Elsie and Louise Frankfurt were the pioneers behind the Page Boy brand and its impact on the fashion market. In 1937, Elsie told her sister, a pregnant Dallas secretary Edna Frankfurt Ravkind, she looked like "a beach ball in an unmade bed." Elsie had studied accounting and design at Southern Methodist University. She cut up one of Edna's pre-pregnancy suits and remade it as a maternity ensemble in the slim silhouette of the day.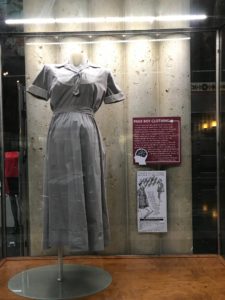 The sisters opened their first boutique a few months later, strategically situated on the ground floor of the office building occupied by most of the Ob-Gyns in Dallas. The youngest sister, Louise, was a fashion design major who joined the family firm in 1941. With her she brought the engineering skills to beef up the line. According to Kay Goldman's Dressing Modern Maternity: The Frankfurt Sisters of Dallas and the Page Boy label (Costume Society of America Series), "The company's name came from its logo of a page boy blowing a trumpet to announce the birth of an heir to the throne."
The secret to Page Boy's success was Elsie's patented skirt design, which fit snugly around the hips without hiking up in front. A scooped-out window in the front accommodated the expanding abdomen; a long jacket covered the window. 
Ads promoted Page Boy's skirts as "not wrap-around." For the first time, maternity clothes resembled current fashion trends. As Elsie was fond of saying: "You can't hide the fact that you're expecting a child … but you can detract from it."
Page Boy's stylish designs and innovative business practices dominated the specialty lines for five decades. According to Gardner, Jackie Kennedy, one of the first victims of celebrity bump watch, was a Page Boy client.
By 1950, Page Boy's "unexpected fashions for expectant ladies" were available in five boutiques and 350 department stores nationwide.
The Page Boy maternity dress in the Hall of State's Texas Innovations exhibit is from the Dallas Historical Society (DHS) collections. In the 1930s the dress was surely considered quite chic. Now eight decades later it might pass for a waitress uniform in an Interstate 30 diner. Fortunately, maternity wear has kept up with trends through the years.
DHS's Toby Hazelip wrote the information seen in the Page Boy exhibit. He wrote: "Depression era entrepreneurs Elsie Frankfurt and Edna Frankfurt Ravkind raised $500 and launched the daring new enterprise Page Boy Maternity Clothing. They were the first to engineer elegance in comfort when Louise Frankfurt Gardner joined the team. These sisters combined the engineering, business and PR genius that made Page Boy the foremost maternity clothing manufacturer in the United States … 
Page Boy broke new ground in every direction. Innovative marketing and business strategy would make the Page Boy label internationally known. As a company, Page Boy would thrive till the end of the 20th century having a rich legacy in fashion and business."