By Chic DiCiccio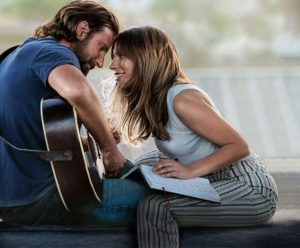 It hasn't been one full week and it's still difficult to process the insanity that was the 2019 Golden Globe winners. While more interested in star power than anything else, this laid-back award show still is a decent precursor to the Oscars. However, this year threw most movie fans and critics for an absolute loop. 
Let's not try to understand why "A Star Is Born" wasn't in the Musical category for Best Picture. You could argue that until you're blue in the face and it's six of one and half dozen of the other. The real shock is how it was essentially shut out of winning any awards whatsoever. That Best Original Song award was a lock so winning that one is basically irrelevant but watching Bradley Cooper walk away completely empty handed is fairly mind blowing. 
Now, this isn't a knock on Glenn Close. She's a fantastic actress … but should Lady Gaga's riveting performance not be rewarded simply because the film industry has largely ignored Glenn Close's impressive career? So, Academy voters, don't blow off a truly genre defining performance just because you screwed up and didn't vote for Glenn Close when she deserved it way back in 1988.
Way to go on getting Olivia Colman that Best Actress in a Comedy statue. She's clearly the standout from "The Favourite," which was unbelievably not given Best Motion Picture, Musical or Comedy. 
Director Yorgos Lanthimos (ignored in the Best Director category, go figure) made a movie so weird that there was no way this made-for-TV event was going to showcase it. It's all about ratings here, folks, so for God's sake, keep the movie about three brilliant women insulting idiotic men while engaging in hilarious psychological warfare off of primetime television. 
But what does it all mean? It means that "Green Book" is the odds-on favorite to win Best Picture at the Oscars. If that happens, there is no doubt that it will be seen as one of the most undeserving winners of all time. It may not be up there with "Shakespeare In Love" over "Saving Private Ryan," but it would be pretty egregious.
Let's put this thought to bed right now: "Bohemian Rhapsody" has little chance at winning Best Picture next month. Oscar voters are a different breed and there's no way they vote for a cleaned up, PG-13 blasé biopic. Let's not even get into the mess surrounding the film's director, whose name won't show up here.  
The real battle is the knockdown drag-out one between Bradley Cooper and the now favorite for Best Actor, Rami Malek. While Malek's charm and charisma definitely dominates the screen and nobody should expect an actor to sing like Freddie Mercury … well … one of those two actors isn't lip synced to a track and we'll leave it at that. 
The strange thing about the Golden Globes is that it splits up their awards into genres and they still don't get it right. How can any award show claiming to be selecting the Best Comedy not place "The Death of Stalin" on their list of nominees? It's easily the best comedy of 2018 and should be on the short list for best movie regardless of where it is slotted. 
Hopefully, the Academy doesn't muck it all up as badly as the Hollywood Foreign Press (whoever that is) has. Of course, it's all fairly irrelevant and you're better off picking your own Best Picture winner for the year, but it's awfully fun to talk about.