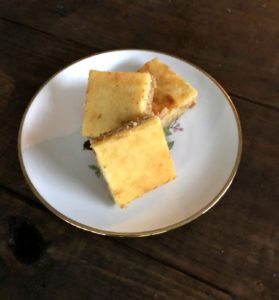 Crust:  
1 box French Vanilla cake mix
1/2 cup melted butter
1 egg, beaten
Filling:
1 (8-ounce) package cream cheese, at room temperature
1/2 cup melted butter
2 eggs, beaten
2 teaspoons vanilla extract
1 teaspoon kosher salt
2 cups powdered sugar
Heat oven to 350F. Line a 9×13-inch baking pan with foil and spray the foil with cooking spray. In a large bowl, stir together cake mix, melted butter and egg. Press evenly into prepared pan. In another large bowl, beat together cream cheese, melted butter, eggs, vanilla and salt with an electric mixer on medium speed. Add powdered sugar and beat on low speed until smooth. Pour mixture over crust and bake until golden and lightly browned on the edges — the center should still be gooey. Let cool to room temperature before cutting into bars.