By David Mullen
In its 59 years of existence, the Pro Football Hall of Fame in Canton, Ohio has enshrined 362 players, coaches, franchise owners, front-office personnel, contributors and officials. 
The Chicago Bears have 34 Pro Football HOF inductees, followed closely by the Green Bay Packers with 33. The Dallas Cowboys have 20 members. Defensive tackle Bob Lilly was the first Cowboy enshrined in 1980. The most recent inductee is wide receiver Drew Pearson in 2021.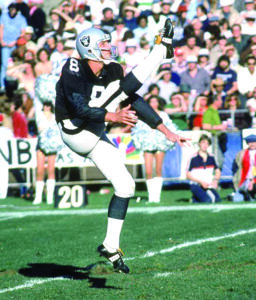 While most would think quarterback is the most honored position, there are 52 offensive linemen with busts in Canton, the most of any position player. The quarterback position has 34 players represented.
Despite a football team being divided into three squads: offense, defense and special teams, players known primarily for their special team ability are often overlooked for HOF honors.
Special teamers are often labeled as "specialists" or "non-athletes." Only two players that were exclusively NFL placekickers are in the HOF: Jan Stenerud and Morten Anderson. 
Hall-of-Famers Sammy Baugh, Paul Hornung, Jerry Kramer, Lou Groza, George Blanda and others kicked in their careers, but excelled at other positions. Kramer is recognized for making the key block in the 1967 Ice Bowl game-winning play for Green Bay over Dallas, not for making 29 field goals and 90 extra points.   
Ray Guy is the only punter in the Pro Football Hall of Fame. Guy was not your typical punter. Most punters find a way to hide if the football he booted is returned in his direction. Guy made several open-field tackles in his career. He was a great athlete who happened to punt, but still waited 22 years for induction into the HOF. 
While in high school in Georgia, Guy pitched a 15-inning scoreless game in the state playoff semifinals in 1969. He scored 39 points in a basketball game the day after the 1968 state championship football game, where he played on offense, defense and special teams. He was also on the track team.
At Southern Mississippi, Guy was an All-American who averaged 44.7 yards on 200 punts. He also handled field goal chores and once kicked a 61-yard field goal against Utah State. Guy started at safety and had 18 interceptions in three years. In his final collegiate game, Guy was MVP of the now defunct Chicago Charities College All-Star Game against the Dallas Cowboys in 1973.
Guy was the 23rd player chosen in the first round of the 1973 NFL Draft, selected by the Oakland Raiders. It was the first time a punter was chosen in the first round. Raiders Managing General Partner Al Davis was chastised when he chose a non-position player with a first-round pick, but Davis was savvy and sensible before succumbing to senility. 
Fine players like John Matuszak, Bert Jones, Dave Butz, Sam Cunningham, Otis Armstrong, Chuck Forman, Isaac Curtis and Cowboys tight end Billy Joe Dupree were drafted ahead of Guy, but the only future Hall of Famer chosen before him in the 1973 NFL Draft was New England Patriots guard John Hannah.
"I was surprised I was picked so soon, but I knew I would get picked. I'm just happy for the opportunity to play pro football with the Oakland Raiders," Guy told me in 1975. My high school journalism teacher received a call from the Raiders providing an opportunity for a young scribe to tour the team practice facility and interview a player. As editor of the Skyline Oracle, the assignment was mine. 
I was 16 years old. 
"Some old ref in New York said punters aren't athletes. I'm going to compile punting as a science and show him," Guy said. I am sure that Guy was assigned to me because he had Southern charm, was even tempered and was the most normal player on a team otherwise fit for an insane asylum. I remember seeing future Hall of Famers Ted Hendricks and Willie Brown having a towel fight in the locker room while smoking cigarettes. 
Tall and lanky at 6-foot-3, 195-pounds, Guy played 14 seasons in the NFL, all with the Raiders from 1973 to 1986. He won three Super Bowls (XI, XV, XVIII), the most by any punter in NFL history, and earned Pro Bowl honors seven times. At the Pro Bowl in New Orleans, Guy kicked a ball off the scoreboard located nine stories above the Superdome gridiron.
While noted for his length and accuracy of his punts, no one could kick the ball as high as Guy. He is credited with introducing "hang time" as a measured statistic in professional football. 
Early in the second quarter of Super Bowl XVIII against the Washington Redskins and the Raiders clinging to a 7-0 lead, Guy leaped to snag an errant snap one-handed, kept his composure and kicked the ball out of the end zone for a touchback. Punters rarely are credited with game changing plays. That play was a difference maker. The Raiders went on to a 38-9 rout.
An estimated 77.62 million Americans were watching on TV, and most viewers will remember seeing an odd commercial imitating "1984" from an upstart company called Apple. I remember Guy's superhuman play.     
Of Guy's 1,049 career punts, only three were blocked. In 2000, the Ray Guy Award was created to honor the most outstanding punter in college football each year.
Football icon Hall of Famer John Madden was Guy's first head coach in Oakland and presented Guy to the Hall of Fame in 2014. The colorful Madden, with arms swinging, said: "I would tell our quarterbacks that they should never worry about throwing the ball away on third down. Because the worst thing that could happen was Ray would come in and punt. And that was pretty good. He was the best punter ever."
At Raiders games, no one left their seat when it was fourth and long. Everyone remained to see what Guy would do. He was that good. He put the "special" in special teams.
Following a lengthy illness, Ray Guy died on November 3. He was 72.
As the undisputed greatest punter of all time, Guy's legend will live on. The stories of his punts will grow in length and elevation, but they don't have to. His punting prowess was no myth. It was majestic, especially to a 16-year-old kid with a pad and pencil. 
Guy remains one of a kind.