By Martha Tiller
The Dallas and Northeast Texas Chapter of the Alzheimer's Association will hold its first-ever gala to help raise funds to fight Alzheimer's and put the spotlight on supporters. Set for Saturday, Feb. 29 at The Hall on Dragon, "Enchanted, An Event to Remember" will be chaired by Catherine Weber. Honorary Chairs are Martha and Douglas Hawthorne.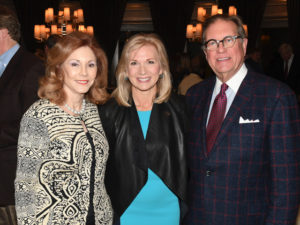 "We are excited to add this lovely endeavor to our already established fund-raising efforts, headlined by the annual Walk to End Alzheimer's," says Mark Denzin, executive director of the Dallas and Northeast Texas Chapter.
Honorary Chairs Martha and Douglas Hawthorne bring a history of community service to "Enchanted, An Event to Remember." Martha has long worked with the American Heart Association and The Stewpot. Doug, founding CEO Emeritus of Texas Health Resources, was named among the "100 Most Influential People in Health Care" and inducted into the Texas Business Hall of Fame in 2014, and has been honored with lifetime achievement awards in both the Fort Worth Business Press Healthcare Heroes and 
D Magazine's D CEO Excellence in Healthcare programs. He currently serves on the national board of the March of Dimes and the advisory board of the State Fair of Texas. He is a member of the Salesmanship Club and is former chairman of the board of Trinity University in San Antonio, Texas. 
Both Martha and Doug are very active in the Highland Park Presbyterian Church in Dallas. They have established and funded a primary health clinic in Tanzania that sees more than 800 patients a month. They have made multiple mission trips and have been honored by Empower African Children and Grace for Impact for their labor of love.
The Hawthorne's have five married children and eight grandchildren and have been touched by family members with Alzheimer's.
"What an honor and a privilege to help the Alzheimer's Association in this small way to bring attention to this terrible disease now touching so many lives," Martha and Doug said in unison.
For more information about "Enchanted, An Event to Remember" call 214-540-2405 or visit enchanted.givesmart.com.