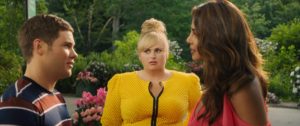 By Chic DiCiccio
It's a clever trick for a movie to satirize an entire film genre while, in fact, fully embracing it. Go too hard and you've got a sour, angry movie on your hands. Take it too easy, well, then you don't have too much of a satire.
"Isn't It Romantic" almost pulls that balancing act off from start to finish. It's witty, precious and goes by at the speed of light (thank you oh so much 88-minute comedies), but it just quite steps on the throat of its enemies. In this case, that would be the dreaded RomCom.
It's not for lack of trying. Writers Erin Cardillo, Dana Fox and Katie Silberman hand star Rebel Wilson the role of her career and she cracks wise to hilarious results. If there is anything that leaves a bitter taste in your mouth, it's that the ending goes full typical RomCom and it almost feels out of place. Kind of. 
Wilson is Natalie, an architect working in a dreary Manhattan office that she commutes to from her 300 square foot borough-based apartment. Her assistant, Whitney (Betty Gilpin), loves her boss because she allows her to watch movies while at work and co-worker Josh (Adam Devine), well, he simply and quite obviously is in love with her. 
While Whitney watches "The Wedding Singer," we learn all the reasons why Natalie despises romantic comedies. So naturally, Natalie wakes up smack-dab in the middle of a romantic comedy after she's knocked unconscious after an altercation with a subway thief. 
All of the stereotypical RomCom stuff is there. She's greeted by a man who she claims is "too hot to be a doctor" and then coincidentally bumps into Blake (Liam Hemsworth, having a blast mocking himself), a billionaire playboy who disrespected her at work. Whitney even turns into her work enemy because, you know, every woman has another female peer that despises them in a RomCom. 
The only person that doesn't change is Josh, even after he gets in on the act and saves Isabella (Priyanka Chopra), a bikini model, from choking and they become romantically involved. It becomes readily apparent where the story is going and while it's amusing and sweet, it feels like a romantic comedy cop out in a movie that just spent an hour mocking this sort of thing. 
Of course, that's also the smartest aspect of "Isn't It Romantic." Director Todd Strauss-Schulson nails a few scenes that could only happen in a bad romance movie and successfully skewers them. The lighting and set design is a laugh riot in itself, particularly seeing the streets of New York so pristine and fresh. 
It's Rebel Wilson's show, but Brandon Scott Jones is an absolute scene stealer. Jones plays Natalie's neighbor Donny, a seedy drug dealer in the real world and Natalie's gay best friend in her fever dream. It's the most "meta" role in the movie and it's completely satirically perfect. 
This is the first movie that Rebel Wilson has ever been credited with producing and she chose very wisely. It's not overly ambitious and easily in her comfort zone yet feels like something she's not done before. 
Yes, there are lots of jokes at the expense of her appearance, but at the midway point, they have all vanished and most of the material is uplifted simply by her wonderful deadpan delivery. 
It's odd, but a romantic movie that spends most of its time making fun of romantic movies really is the perfect Valentine's Day movie. "Isn't It Romantic" is far more fun than you may expect without being too silly.