By Richard Lannen
Walking into Jimmy's Food Store is like stepping into a piece of Dallas history. Truly an institution, Jimmy's has been around since 1966, functioning as one of the few, if not only, Italian grocery stores in the Dallas area and is still run today by the same hard working family. Jimmy's offers everything you need for a true Italian dinner, from rich house-made sauces to Italian sausage so delicious it has become the Dallas standard.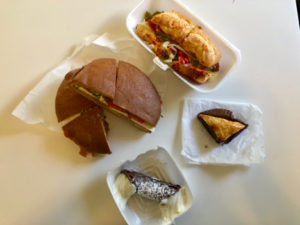 While I could spend hours wandering up and down the aisles at Jimmy's, I am here at lunch time, and that means only one thing; sandwiches. I am not the only one to have this idea, as the line at the deli counter is growing every second while everyone clamors to get their order in before their lunch hour is over. Even though the line may seem daunting at times, it always moves quickly, and luckily if there is one thing Jimmy's does not run low on, its delicious cold cuts and cheeses. 
I am a creature of habit, so I tend to order the same sandwich I have been eating since my father took me here as a child, the Meatball Sub. The key to this delicious sandwich is the house-made meatball recipe that Jimmy's has been using for 50 years.  Handmade meatballs, stewed in a thick and rich tomato marinara, piled high with creamy mozzarella and just the right amount of tender sweet peppers and onions, makes for the perfect sandwich. The trickiest part is managing to eat it all without dropping a single meatball or sweet Italian pepper. 
On the rare occasion I do stray from the meatball sub, it's so I can order the Prosciutto Panino. This sandwich is the yin to the yang that is the meatball sub. While the meatball is messy and saucy, the Prosciutto Panino is clean and refined. Velvety and fresh mozzarella paired with thinly sliced prosciutto are complimented perfectly by thick slices of Roma tomato and a smattering of fresh basil and olive oil. All of this layered on a chewy and perfectly baked bun, which soaks up every drop of delicious extra virgin olive oil.
On top of this, Jimmy's offers an additional 13 authentic Italian sandwiches to catch your eye, from a true muffuletta, that is never short on olive spread, or the Italian Stallion, with its boastful toppings of six meats and three cheeses. The latter has solidified its place by becoming a piece of Dallas legend.
For me, no lunch from Jimmy's is ever complete without a chocolate cannoli and a piece of baklava, which is hidden by the register. The cannoli shells are dipped in chocolate and perfectly crisp, giving them a fantastic crunch when biting through. They are filled with a rich traditional ricotta cannoli cream filling. The filling tends to melt fast, but this is hardly ever a problem for me as I tend to eat it before I make it out the door. The baklava may not be traditionally Italian, but I am weak for a well-made baklava that is heavy on the nuts and doused in plenty of sweet syrup, so much so, that my fingers stick to every bite. 
Food trends may come and go, but nothing new will ever compare to creating something simple and consistently doing it well. This is a mindset that Jimmy's has subscribed to for the last 50 years and hopefully will continue to do so, for years to come. I hope to one day share the enigma that is Jimmy's with my child, the way my father did for me, and inevitably ruin them from ever being able to enjoy sub-par Italian food.
Jimmy's Food Store 
4901 Bryan St. 
Dallas, 75206
214-823-6180
9 a.m. -7:30 p.m.
Closed Sunday