By Stephan Sardone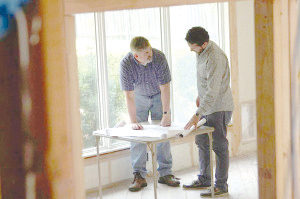 Whether constructing a house from the ground up or renovating an existing home, we are always looking for the newest and most innovative ways to improve your overall living experience inside the house and out.
Some of these upgrades are easy and can become DIY projects. Others will require the work of a professional, licensed contractor. Still, in gathering as much information available, here are some considerations that will make you more functional, more efficient and possibly greener. 
Replace your door knobs with door flats. They are easy to use when toting groceries and other items through the front or back door, and they are better for seniors to handle.  
Add a USB wall charger to home wall outlets. Many newly built homes are already equipped with wall outlets that have USB slots these days, but even if you aren't building from scratch, they're an incredibly useful addition that is fairly easy to add for someone with a bit of electrical experience. All new cars have them, so there is no reason that homes shouldn't have them.
Upgrade to high impact-rated windows. If you live in a severe weather area, these windows are a must. 
But even for those living in other areas there are many benefits to installing impact-rated windows, such as improved security, reduced noise and better energy efficiency. Your investment will pay for itself in lower utility costs and possibly lower insurance costs.
While this may seem like a luxury item, change out your traditional shower to a steam shower. It will provide years of relaxation and increase the value of your home. Plus it is very green water solution. Reports state that typical showers use seven gallons of water per minute while steam showers use only one.
Adding floor drains to the floors of your bathrooms and laundry room may not be the most aesthetically pleasing addition, but they are very functional and can help prevent a disaster. They can keep a plumbing problem from flooding your house, which seems worth the investment.
Get creative to maximize space and comfort. Build a window seat or seats where you can read a book or the kids can play or do their homework. You can also use the area under the cushion for storage space.
Chances are, under the staircase you will find areas for additional storage spaces or shelves. These make a great area for throw pillows and books and games.
And speaking of books, instead of doors consider building bookshelves that can open up and allow you to go from room to room. 
You can hide a den, a dining room or kitchen.
Did you know that they make in-wall pest control modules? You can have a wire placed so that pest control companies can inject chemicals right into your walls to get rid of critters you don't want without the fuss and smell. 
And while you are at it, create an indoor garden. It's common in other countries to include little gardens throughout houses to make rooms feel bigger and improve air quality and ventilation, so bring a little international flavor to your home.
Build an outdoor theater. This is an easy DIY project that can create years of fun. Using a projector, screen and simple outdoor seating will make an affordable outdoor theater. Or go all out and create a true theatre experience with a space designed for projection and built-in seating.
There are plenty more ideas. Talk to your professional contractor, interior designer or even local hardware store for the latest trends. It only takes a few ideas to enhance your living experience.