By Sara Newberry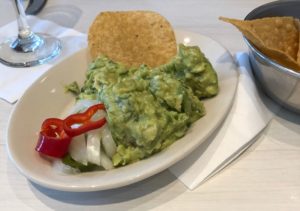 Taco Diner is one of the concepts created by the MCrowd Restaurant Group, who are also behind Mi Cocina and The Mercury. The Mercury is a fine dining establishment, with a kitchen helmed by esteemed local chef Chris Ward. Mi Cocina and Taco Diner are similar in that they both have Mexican-inspired menus, and both offer somewhat elevated versions of Tex-Mex and Mexican favorites. Mi Cocina is not my favorite, but tacos are, so I decided to give Taco Diner a try. 
The menu has several sections: two different categories of taco, starters and "blue plates" being the largest selection, then breakfast options, sides, and soups and salads. The Burger has its own section; the editor in me is not sure why it's not folded into Blue Plates. 
Tacos are divided into "street" and "de la casa," which kind of illustrates the aesthetic of Taco Diner. For the street tacos, we tried the chicken tinga, the choriqueso and the pastor. The tinga, which is chicken cooked in a tomato-based sauce, was spicy and smoky, just like a true chicken tinga should be. The choriqueso is filled with chorizo and Oaxaca cheese and, again, the chorizo had a nice kick, balanced by the cheese. These were the best tacos we tried at Taco Diner. I'm extra picky about pastor tacos; I want a sharply-flavored pastor, heavy on the chiles and a noticeable kick of vinegar or sour orange juice. So, Taco Diner's didn't really do it for me. They were tasty, and most people are not as persnickety about pastor as I am, so would like them. 
The tacos in the "de la Casa" category are a little fancier, using ingredients like ribeye, brisket and seafood. We tried both of those, as well as the campechano and the crispy fish. The brisket taco was great, full of smoky shredded beef. A ribeye taco was like a fancy version of suadero, a taco made from skirt steak or other cuts of beef cooked in a way that renders them so tender as to border on soft. The texture in the ribeye taco was excellent, but the flavor was flat. The addition of chorizo to create a campechano taco helped quite a lot. A crispy fish taco was not crispy, unfortunately, and was underseasoned to the point of blandness. 
We tried a couple of the enchiladas as well, both of which were successful. Polancas, or Oaxacan-style enchiladas, are folded instead of rolled, and are coated in a flavorful red chile sauce, and topped with your protein of choice. The sauce has a lovely balance of earthiness and tanginess that pairs well with the cheese inside the tortillas. We chose brisket to go on top, and it was the same smoky, delicious brisket that we'd tasted in our taco. I'd give a crispy chicken enchilada a B+. The flavor of the filling and the green sauce were both spot-on. The tortilla is fried, then covered in sauce, which gives the ends a pleasing crunch, but leaves the center a little tough, like a half-cooked flauta. 
Sides are mostly fine. Black beans, rice and elotes were all standard, nothing exciting, but not terrible. A side of sauteed vegetables (mostly squash) had zero flavor but were cooked well. Salsas have no heat and need more acid. 
A guacamole starter was the best thing we had at Taco Diner; ironically, it's the dish they seemed to do the least to. Rich with chunks of avocado, it was perfectly balanced between creamy and tangy, with pickled onions and peppers on the side. It was the first dish we tried and set such a standard that we were confused by the rest of the dishes. 
The space is very bright and clean-looking, with floor to ceiling windows on both ends of the building. Light wood tables and minimal decoration both contribute to the airy feeling of the space. I've been to many a diner in my life, and I've never seen one that looks like this. Service is friendly, if a little inconsistent. We had very nice servers, but they would disappear for extended lengths of time during our meal, leaving us with empty plates and glasses for too long. 
Again, I am not a huge fan of Mi Cocina, so it's not a big surprise that I didn't love Taco Diner. If Mi Cocina is your favorite Mexican restaurant, chances are you'll probably like Taco Diner. If not, I'd give it a miss and head to a taqueria.
Taco Diner
7150 Skillman Street #190
469-609-0530
tacodinerrestaurants.com
Sun. – Thu. 11 a.m. – 9 p.m.
Fri. and Sat. 
11 a.m. – 10 p.m.