By Sara Newberry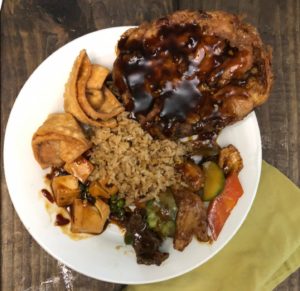 Good Chinese food is not all that easy to come by in our neck of the woods, and good Chinese delivery is even more of a rare thing. Recently, in a fit of near-desperation after discovering that my usual (admittedly pretty mediocre) place would no longer deliver to me, I decided to try Moon Wok for Chinese delivery. Now it's the only place I'll go.
The menu is vast and varied, but I tend to stick to the classic Chinese restaurant dishes, like Twice Cooked Pork or Hot and Sour Soup. While bento boxes and sushi are options, I'm hesitant to order those as delivery items. 
Appetizers run the gamut from the familiar egg roll to steamed edamame. Egg rolls are standard, with crisp skins and well-seasoned ingredients. Pork wontons are well-fried, but the pork filling is overly salty. Crab rangoon were also a little bit of a letdown, with not enough filling (though what was there was pretty bland). 
Hot and Sour soup was flavorful, with velvety broth and lots of mushrooms. Wonton soup was just OK. The wontons were better than the fried ones, but the broth was pretty unseasoned. 
Entrees are, in general, among the best Chinese food I've found in Dallas. There were a few missteps, but for the most part I have been pretty pleased. I usually stick to pork and chicken with Chinese food, but many of the dishes we have tried are also available with beef or with just vegetables. 
I don't see Egg Foo Yung on a lot of menus, but it's a favorite, and Moon Wok has it. Moon Wok's definitely satisfies the craving, but the omelets are huge, and nearly 2 inches thick, rather than the more delicate version I've had elsewhere. They were well seasoned and loaded with pork and vegetables. Soy sauce gravy was lighter and less greasy than others I've tried. 
Mu Shu is also one of my go-tos, and the one at Moon Wok was excellent. The pancakes were delicate but sturdy enough to hold the delicious filling, which was good on its own as well. 
The filling was a well-cooked mix of tender chicken, cabbage, onions, carrots, mushrooms and bamboo shoots, and Hoisin sauce was standard, probably from a package, but I'm not complaining. It was one of my favorite dishes I've tried. 
Twice-Cooked Pork was probably the best dish I had from Moon Wok. Pork is simmered in a broth flavored with rice wine, then stir-fried to give it a little crunchy texture. It's a Szechuan dish, which lean toward the fiery end of the flavor spectrum. This one is spicy, but not overwhelmingly so. Bell peppers, cabbage and carrots offset the heat with a little sweetness. I also really enjoyed the Country-Style Tofu, which was loaded with vegetables and bathed with a soy sauce based sauce. Again, the dish's heat is balanced by the mix of vegetables, and the fried tofu offers interesting texture. 
Ma Po Tofu was not as successful; in fact, this version of the dish was so unlike any I've ever had, I wondered if the cook had ever seen it. Normally tofu and minced pork are cooked in a chili-oil based sauce, loaded with Szechuan peppercorns and garlic. This was a mildly spicy brown sauce, loaded with tofu cubes and peas. It was very disappointing. 
Four Season is a mix of chicken, pork, beef, shrimp and vegetables in that ubiquitous brown sauce. It's exactly what one expects from the dish. There's nothing offensive about it, but there's nothing really impressive about it either. 
String Bean Chicken was well-cooked, with still-crunchy string beans and tender chicken, but the dish was overly salty. Garlic Sauce Pork had a nice kick and contained a generous ratio of pork to vegetables. 
Again, it may not have been the most authentic (true Szechuan garlic sauce pork contains only woodear mushrooms and celtuce or bamboo shoots), but I like to pretend I'm healthy by ordering dishes with vegetables in them. 
Sweet and Sour Pork has zero vegetables in it, so it's my once-in-a-while treat. (Actually, there are some green bell pepper and onion chunks in it, but we all know no one eats those.) 
This version was exactly what I've come to expect from Sweet and Sour, except it arrived actually crisp — it's often soggy — and even held up to being reheated the next day. Sweet and sour sauce is the same universal bright red version that stains anything it touches. 
Almond cookies were from a package and not worth the money. Stick to fortune cookies and order an extra egg roll instead. 
Moon Wok is my "it's been a long day and cooking does not appeal to me in the least, but I don't have the energy to go out" option. 
I'd much rather have Chinese than pizza, and while delivery services have broadened the options, there are still not a lot of choices on this side of Garland Road. Delivery is usually estimated at about 45 minutes, but more often than not it takes about 25.  
Moon Wok
8670 Skillman St.
214-221-8888
moonwokdfw.com
Open 7 days, 11 a.m. to 10 p.m.
(Dining room also available)