By Juliette Coulter
For those parking and traveling in and out of Dallas Love Field this holiday season, especially Dallas Mavericks fans, there is a wonderful surprise. And just in time for the NBA tip off, too. The airport has opened Garage C, with a Dallas Mavericks themed floor designed by local graffiti artist Tex Moton and 5,000 parking spaces. Dallas Love Field partnered with the Dallas Mavericks to design a visual fan experience, from the parking garage to the elevators, terminals and baggage area.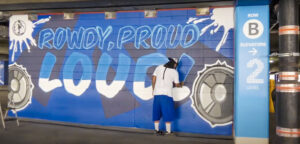 Moton, who has worked with the Dallas Mavericks to design products, promotional items and uniforms, used his unique graffiti style art to create an experience that any Mavericks fan would love. "My style is working with colors, boldness and flow, and it's always had a positive response in the community. We want to uplift travelers' spirits from the garages and throughout the airport." 
Messages are painted throughout the garage and in the terminal and include phrases such as "Safe Travels," "Rowdy, Proud and Loud" and "We're all in this together." 
In addition to Tex Moton's art, WRR has created a special exhibit entitled Texas' First Radio Station: WRR Radio Centennial Celebration. This exhibit is now on display at Dallas Love Field near the baggage claim area. It is free and open to the public. Guests can park for free to see the exhibit.