By Chic DiCiccio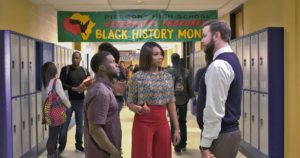 Kevin Hart is critic-proof. Nearly every movie he stars in gets ripped to shreds, but they go on to turn huge profits. It's a testament to his huge fan base and Hart's tireless work ethic. Like him or not, Hart isn't leaving the pop culture landscape anytime soon. 
That being said, his movies are often quite terrible. "Night School" isn't going to change that. This average-at-best comedy has scenes that drag on for what seems like ages, a handful of annoying characters, and not even Hart and Tiffany Haddish's screen chemistry can save it. 
Hart is Teddy Walker, a high school dropout whose gift of gab has led him to a successful career as a barbecue grill salesman. After his job situation explodes, Teddy scrambles to keep up the financial charade he's created in an effort to keep his successful girlfriend, Lisa (Megalyn Echikunwoke), from bailing on him. 
Since he can't find a job without a high school diploma, Teddy goes back to his high school to enroll in night school. His high school nemesis, Stewart (a fully not funny Taran Killam), is now the principal and he also butts heads with the night school teacher, Carrie (Haddish). 
Naturally, every single one of Teddy's classmates is quirky and their intro scene is agonizingly long. It's a who's who of comedic actors, including Rob Riggle, Mary Lynn Rajskub and Romany Malco, who steals nearly every scene he appears in. 
There are loads of real-life topics "Night School" could have satirized while subtly spotlighting some of society's shortcomings. 
Since Teddy suffers from dyslexia, perhaps the movie could have looked at how learning disabilities are handled by public school teachers. Maybe a hot take on stereotypical male insecurity when faced with a more successful female? 
Nope. This team of writers (literally, there are six) and director Malcolm D. Lee aren't interested in any smart comedy. They skip that and go right for vomit humor. There is an entire montage devoted to squeezing laughs out of watching Hart get beat up in an octagon by Haddish, which makes less than zero sense. 
Oddly enough, the funniest and freshest gags all occur when Teddy interviews at, then subsequently works for a fast food joint clearly parodying Chick Fil A. The name of the restaurant alone is pure gold, but the business neighboring it only adds to the most hilarious moment in all of "Night School." 
There's no doubt that Hart and Haddish work well together and "Night School" is best when they are on screen together. Haddish does a great job as a snarky, yet caring teacher but, at some point, Hart needs to perform a role that isn't just "Kevin Hart as Kevin Hart." Sure, it's a hoot watching Haddish blast away at Hart's height and voice, but these jokes are going to get old really, really fast if the material doesn't freshen up. 
"Night School" will probably be another box office hit for Hart. This is a blasé, mainstream PG-13 comedy with nearly no edge or sharpness to it. To make matters worse, the last half hour of its 111 minutes drags for what seems like an eternity. Hart has his hardcore fans, but at some point, they may start to expect more from him.