By Raquel Henry
Texans Can Academies announced a new high school campus in the Lake Highlands community of Dallas that will be open to students this upcoming school year. Texans Can Academy -Dallas North, the organization's newest dropout prevention and recovery school for 9th through 12th graders, is enrolling for the fall semester and is located at 9704 Skillman Street in Dallas.
Texans Can Academies' Dallas North campus has the capacity to serve up to 350 students. Located near the intersection of Forest Lane and Skillman Street, the campus is made up of three buildings totaling more than 37,000 square feet. 
The new campus will be Texans Can Academies' first dropout prevention and recovery high school to open in the Lake Highlands community.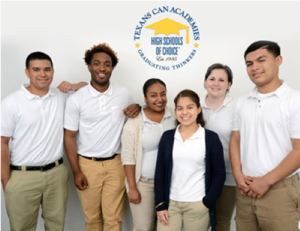 To meet the shifting population needs of its students, Texans Can Academy — Ross Avenue, located at 4621 Ross Avenue in East Dallas, will relocate their campus to this new location by moving staff and existing students. The Dallas Ross Avenue campus principal, Rufus Johnson, will serve as the principal of the new school. 
"We are very excited to open our new campus on Skillman in the Lake Highlands area," said Johnson. "We are thrilled for the opportunity to reach more youth in this area and our staff looks forward to creating a rich learning environment for all students in this community."
The school will offer two half-day programs every weekday for their enrolled students. Students are able to attend school either four hours in the morning or in the afternoon to allow them time to work if needed. The school's student-to-teacher ratio average is 17:1 with one advisor/social worker on staff for every 45 students enrolled.
Every Texans Can Academy campus cares for the whole student by offering services and resources beyond the classroom. The organization upholds the mission to provide every student the opportunity to pursue their dreams while removing barriers that keep them from attaining their education. 
For more information about Texans Can Academies and how to enroll, please call 214-824-4226 or visit texanscan.org.